Episode 001
Length: 18:48
Subscribe to Show Link: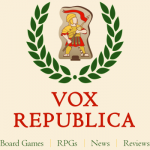 Welcome to the first episode of Vox Republica, the Cardboard Republic Podcast!
We'll be posting new episodes every Thursday, and each episode will be about 20 – 30 minutes long.
I talk about the upcoming Fantasy Flight storytelling game Winter Tales.
Recently, I've played City of Remnants. Aliens and ass kicking (unfortunately, mine in this case). Still very fun.
Dave Gordon stops by to talk about props and accents in tabletop RPGs. Spoiler Alert: He's in favor.
We also mention The Realmsound Project, which is a cool Kickstarter looking to fund the creation of a soundtrack to play in the background of your game. While I was writing these notes, I also found Cthulhu Soundscapes, which is a similar project focusing on Lovecraftian games like Call of Cthulu. Show these projects some monetary love, if they're your thing.
We'd love to hear from you! Please leave feedback in our forums, or via email at podcast@cardboardrepublic.com. You can also reach me on Twitter or BoardGameGeek.