Episode 003
Length: 24:26
Subscribe to Show Link: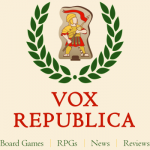 Welcome back to Vox Republica, the Cardboard Republic Podcast!
We'll be posting new episodes every Thursday, and each episode will be about 20 – 30 minutes long.
I talk about Incredibrawl and King's Forge, two Kickstarter prototypes I've checked out recently.
Dave Gordon comes in to talk about how to keep horror games scary.
We discuss a recent game of Don't Rest Your Head that Dave ran (and I played).
We'd love to hear from you! Please leave feedback in our forums, or via email at podcast@cardboardrepublic.com. You can also reach me on Twitter or BoardGameGeek.