Episode 002
Length: 26:41
Subscribe to Show Link: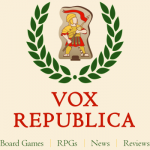 Welcome back to Vox Republica, the Cardboard Republic Podcast!
We'll be posting new episodes every Thursday, and each episode will be about 20 – 30 minutes long.
I talk about the upcoming Fantasy Flight vampire party(ish) game Blood Bound.
Recently, I've played Unhallowed Metropolis, and I discuss why it's the best thing ever.
Editor Ryan LaFlamme stops by to talk about why we at The Cardboard Republic love our indie games as much as we do.
Editor's Note: At one point, I refer to Dominion creator Donald Vaccarino as Dominick. I realized it after the recording, but by then it was too late. My apologies to him. Sleep deprivation is bad, kids.
We'd love to hear from you! Please leave feedback in our forums, or via email at podcast@cardboardrepublic.com. You can also reach me on Twitter or BoardGameGeek.