Around The Republic
Before we really get into the good stuff (GAMES!), a brief note on the Crowdfunding Top Three. Ahem. I've decided that just being an awesome project on Kickstarter no longer qualifies games to make it onto the Top Three. Now, I'll only consider awesome crowd-funding projects that are put out by small/indie developers and publishers. I'm trying to reserve that space for projects that both deserve and need a little extra lovin'. All other awesome crowdfunded games will go into the Game News section. I'm not arguing that they don't belong on crowdfunding sites (because I don't believe that), and also I don't really care. So. If anyone has problems/concerns/funny stories/cute animal pics related to this, feel free to email me.
And now . . . the news!
Games & Expansions
Title: AquaSphere
Publisher: TMG
Designer: Stefan Feld
Anticipated Release: Estimated Q4 2014
Why You Should Care: Stefan Feld is known for making some great games (see: Castles of Burgundy, Trajan, Bruges, etc.). He's also known for games that offer, in the words of the Kickstarter, "different paths to victory." You may know this phenomenon as "point salad," but I prefer to call it "point ambrosia". And holy nectar of the gods does our cup overfloweth in Aquasphere.
The theme is clever and cute – you're a researcher working to gain the most knowledge from your underwater base. It feels part '90s cartoon/part Wes Anderson movie, with programmable robots and meddlesome octopods. Each turn, you can program your lil' bots to do your bidding or you can deliver your bot to a sector of your submersed base where it will enact its commands.You can also (and here you see what I mean about the VP) send out submarines, collect mysterious crystals, examine your mischievous neighborhood octopods, improve your lab, and so on. The rule book is available online.
Title: The Resistance – Hostile Intent & Hidden Agenda
Publisher: Indie Boards and Cards
Designer: Don Eskridge
Anticipated Release: Estimated Q4 2014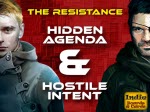 Why You Should Care: This is a two-in-one expansion for The Resistance (and if the name above didn't clue you in to that, this probably isn't the game for you). Both expansions come with three new scenarios ("modules") that let you amp up the mind games and mess with your friends. I won't go into detail about all of them here, but I'm particularly in love with the Inquisitor module in which one player can look at the affiliation of the other players…then do with that information whatever they wish.
Muahahahaha!
The Kickstarter also contains two promo modules to entice you to get in on it now rather than to wait for retail.
Title: Alhambra Big Box
Publisher: Queen Games
Designer: Dirk Henn
Anticipated Release: Estimated Q4 2014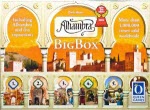 Why You Should Care: Alhambra is back and bigger than ever. It's a great game – so great that we've reviewed it. This edition is Queen Games's most recent "Big Box" expansion – it contains pretty much everything Alhambra including all of the expansions, the dice game, the card game, and so on. Different pledge levels let you choose the amount of product you want/have space for, so it's not an all-or-nothing grab. If you're into the city buildings, though, go for it. Most seriously.
Title: Flash Point: Honor & Duty
Publisher: Indie Boards and Cards
Designer: Kevin Lanzing
Anticipated Release: Estimated Q4 2014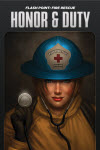 Why You Should Care: This is the latest expansion to Flash Point: Fire Rescue, and it features a new board with a subway disaster on one side and a flaming airplane on the other. If you pledge for it on Kickstarter rather than waiting for the retail copy, you'll also get the Fire Prevention Officer role card and another board featuring a basement and an attic. Presumably, both are also on fire.
Crowdfunding Corner Top Three
Title: Teratozoic
Publisher: Modern Evil Press
Designer: Teel McClanahan III
Buy-In: $20
Why It's Special: Does anyone else remember the '90s Nickelodeon show Aaahh!!!! Real Monsters? As soon as I saw the create-a-monster game Teratozoic, I started getting '90s kid flashbacks – the monsters you build in Teratozoic could have been pulled directly from the animated series. But I digress a little, so let's veer back towards Kickstarter.
In Teratozoic, you have to manage your monster's adaptations to build the largest, most powerful creature. You do this through drawing cards from the common gene pool, as well as from your specific monster deck, and playing them better than your opponents. It's light (and sometimes fuzzy . . . or scaley). Expect our preview of it in the very near future!
Honorable Mentions: Vaults
As always, for more news and updates, follow us on Facebook, Twitter, or G+.
And if you have any updates or interesting stories, send them to news@cardboardrepublic.com.