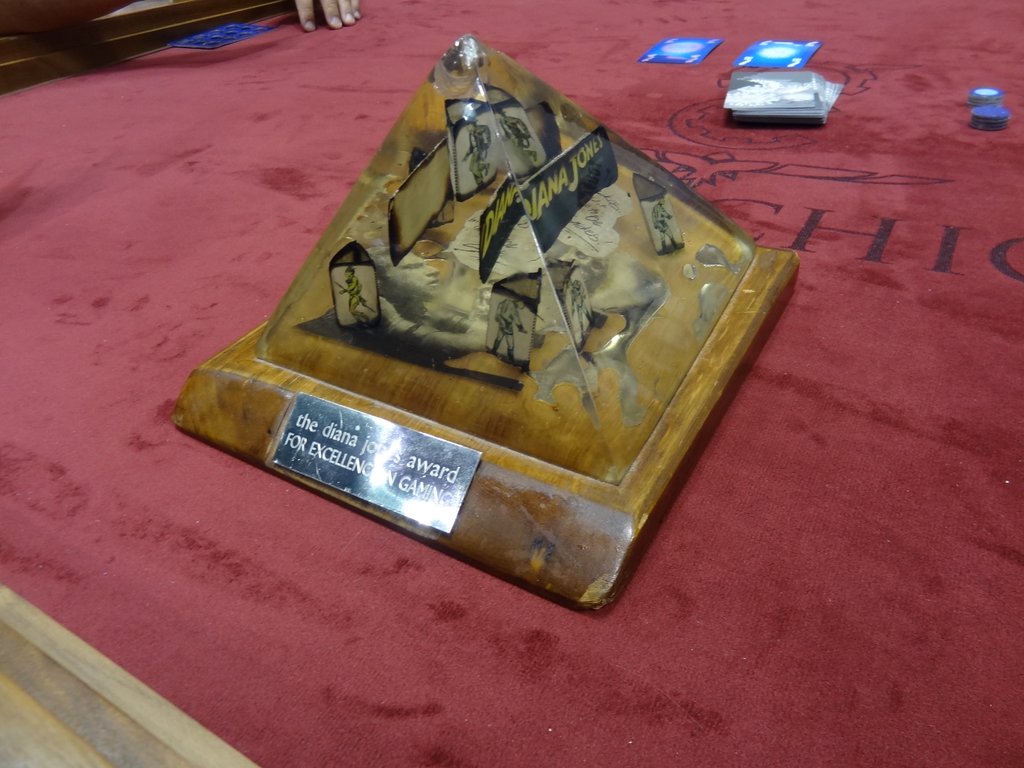 Organizers of the annual Diana Jones Award have revealed the short list of 2017 nominations to receive what many see as gaming's highest honor. This year's nods include a pair of board games, a card game, a pen-and-paper roleplaying-game, a live-action roleplaying game, and a convention.
The Diana Jones Award is an accolade with a storied history. The award itself was created during the mid-1980s by the UK staff of TSR and contains the burnt remains of a failed Indiana Jones RPG displayed within an acrylic pyramid. Since 2001, the award has been handed to people, products, publications, companies, and really anything else that represents "excellence in gaming."
Past recipients of the Diana Jones award include the card game Dominion in 2009, Geek & Sundry's web series Tabletop in 2013, and game designer Eric Lang last year. The award does not consider commercial success as a sign of "excellence," but instead relies on the opinions of a mostly secret panel of judges regarding merit to determine what deserves to be recognized as the year's best contribution to the idea of gaming.
The nominees for this year's award include Jacob Fryxelius' highly regarded board game and 2017 Kennerspiel des Jahres nominee, Terraforming Mars, as well as Isaac Childres' ambitious adventure game, Gloomhaven. Both of which have also been highlighted by the CR, with Terraforming Mars winning the 2016 Architect Laurel and Gloomhaven having the unique distinction of occupying the site's Indie Spotlight title during the back to back months of February and March of 2017.
Other nods for this year's award go to The Romance Trilogy, a series of two-player roleplaying games that focus on building relationships between players, a single-player erotically-charged card game called The Beast, and White Wolf's live-action RPG End of the Line. The massive North American gaming convention, Gen Con, was also nominated for the award, and will coincidentally also play host to the awarding of the winner on August 16.
(Image credit: Geek Dad)