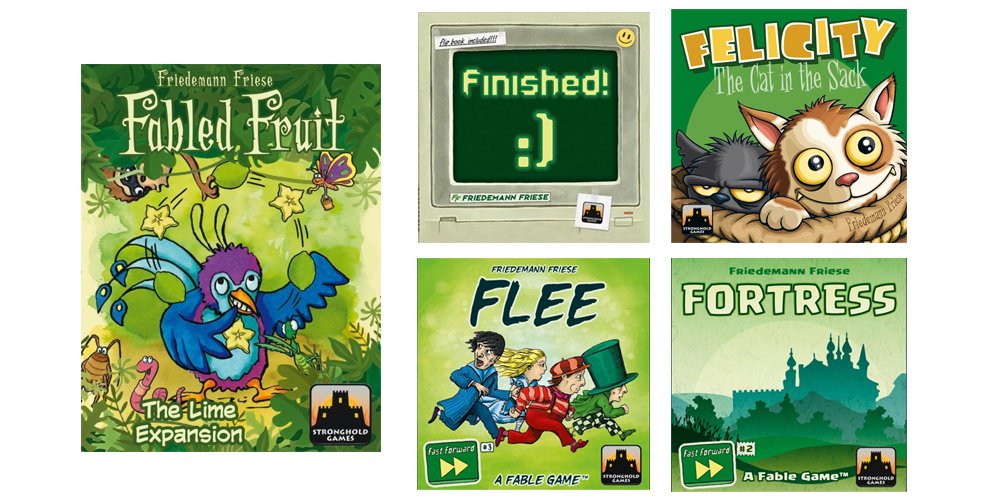 Last year's Fabled Fruit from acclaimed designer Friedemann Friese was a surprise hit, and even then we knew that this was just the beginning for what publisher Stronghold Games hoped to become a new frontier for tabletop games. The company has now confirmed plans for a follow up to the card game as part of a bigger publishing agreement with Friese's game design imprint, 2F-Spiele.
Coming off of the pair's announced partnership in 2016, Stronghold Games this week announced plans to launch a new line of titles it dubs its new Fast Forward Series of games. The series is built on ideas first seen in Fabled Fruit, with players learning how to play the game from the cards themselves, with games evolving and changing depending on how players play from game to game. Fabled Fruit itself will receive an expansion as part of this new series of games in October called The Lime Expansion, which promises 20 new locations, new gambling tokens, and a mysterious "camouflage coat."
This expansion won't be the only new game in the Fast Forward Series, obviously. Another game, Fear, is described as a hand-management game about ghost hunting for 2-5 players that plays in about 15 minutes or so. Another October release, Fortress, will offer players a short bluffing game in about the same length of time.
While each of these games look to offer quick, lighter gameplay experiences, the biggest of the group, Flee, will play in about 75 to 90 minutes for 1-4 players. This will be a cooperative adventure and puzzle game that pits players up against – and running from – some kind of terrible monster. Flee is expected to drop in November.
Looking outside the Fast Forward Series, the companies also plan to release a reprint of 2007's Felix: The Cat in the Sack in October alongside a new solo card sorting game called Finished!.
We expect to more of these games to emerge from Gen Con this week, as well as in the weeks and months ahead.