I really hate going to see the doctor. Everything from antiseptic smells to moans of discomfort in the waiting room leaves me leaning hard into over-the-counter remedies. It amuses me, however, that despite an incurable case of white coat hypertension, I remain a steadfast in my love of the board game Pandemic. Now designer Matt Leacock's magnum opus about curing global illnesses out of control is getting a new anniversary edition, and the only anxiety I'm left with is in wondering how soon I can get my hands on a copy.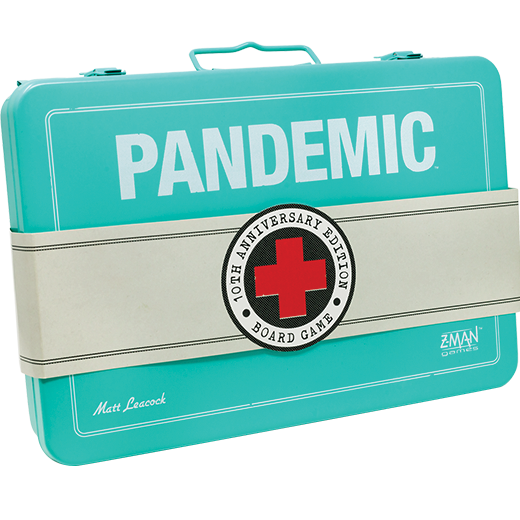 Publisher Z-Man Games has announced that in recognition of Pandemic turning 10 years old, the company will release an anniversary edition of the game later this year. Titled simply Pandemic 10th Anniversary, the game is expected to arrive in the fourth quarter of 2018 with a MSRP of $99.99.
But it's what you get for that price tag that makes this special edition of Pandemic sound extra interesting. The anniversary edition will include plastic miniatures with colored bases, new art, and a welcome return to the wooden bits found in the game's original 2008 debut. The games' wooden disease cubes will also share the spotlight with wooden cure markers screen printed with the virus symbols. All of this will come packed in a tin collector's box made to resemble a first aid kit…though I can't imagine my reaction at reaching for a kit emblazoned with the word "PANDEMIC" on the front would fill me with much hope.
Pandemic 10th Anniversary will be on display during Gen Con in August, and is available for pre-order now.