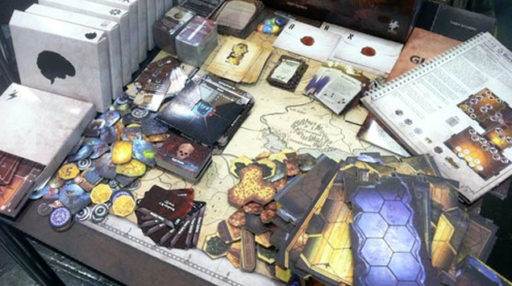 The crowfunded cooperative adventure Gloomhaven has been delayed once more, pushing the hotly-anticipated game into the coming year.
Originally pegged to be released in May, creator Isaac Childres posted an update this week breaking the news to backers that the game would likely not begin shipping until December. Blaming production oversights on the latest delay, Childres writes that he now expects the game be in players' hands in January.
According to Childres, one of the issues prompting the delay involved the game's player mats, which were cut to hold trackers for both hit points and experience. Unfortunately, this appears have worked better on the drawing board than in practice, as the slots cut out of the mat failed to hold the markers in place. This issue, which Childres describes as "frustrating and embarrassing," was first recognized as a problem during Essen.
"Luckily the main bulk of these player mats hasn't been cut yet, so we are able to still work more on it and come up with a more reasonable solution," wrote the designer in his update. "We are limited in the fact the wood trackers have already been made and the player mats are printed, so the only thing we can modify are the cut lines, but we're working on a number of ideas, and I'm hoping the problem will be solved to my and your satisfaction."
Unfortunately this wasn't the only complication to come to light during the show. The boxes included in the game for each character were made too thick as well, making them unable to properly fit inside Gloomhaven's already massive box. Childres notes that he is now working to reprint the boxes, however the timing of this happening at the end of the year makes it unlikely that the issue will be resolved in time for players to have the game on their tables before the new year.
So now we set our sights on the next calendar year, and hope that January will finally let the eager among us to start our adventure with Gloomhaven.