Hundreds of games are debuted every autumn at Germany's Spiel convention in Essen, with publishers from all over the world showing off their wares. If a title becomes popular enough due to sales and/or post-convention word of mouth, the inevitable question arises of whether the publisher intends to find a way to bring the game to North American game audiences. And many do, announcing their intentions in the weeks and months following the convention.
One much lauded game was conspicuously missing from these announcements, however, being the sleeper hit Smartphone Inc. by Russian publisher Cosmodrome Games. Today, that question is finally being answered.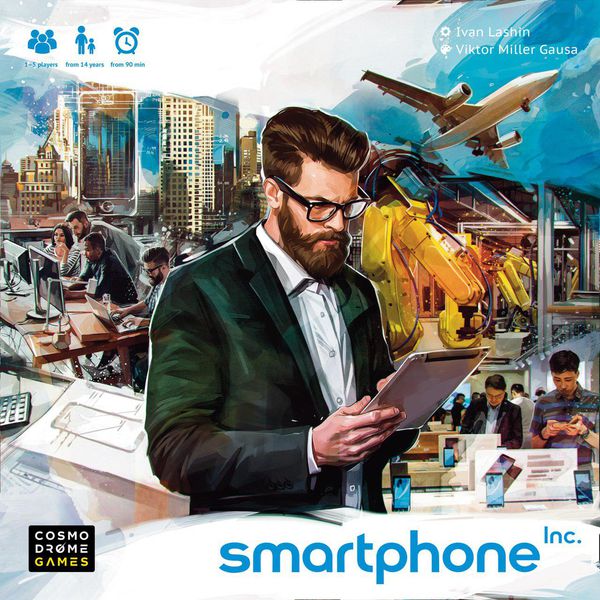 Cosmodrome Games has announced that audiences will now have another opportunity at cornering the smartphone market when it brings Smartphone Inc. to Kickstarter this June. Recognizing the game's surprise popularity, the company had long been looking at different opportunities to reprint it for a larger audience, and it appears that they've ultimately decided that Kickstarter was their best approach. According to Cosmodrome, they will be using the campaign to upgrade game components, tweak the rules to increase replayability, and add in "an optional hardcore mode" – apparently for those who felt the game was too easy after a few playthroughs.
Existing owners of the game will also have something to look forward to, though, as this summer Kicktarter will also be introducing a Smartphone Inc. expansion. Because there's always a new phone option out there just around the corner.
Smartphone, Inc. is a medium-weight economic strategy game for up to five players that takes approximately 60-90 minutes to play. In it, players are CEOs of competing smartphone manufacturing companies trying to make the most profit from their products. Over the course of five rounds, you are tasked with researching new technologies, managing the production of your units, expanding into new territory, and cornering the market on sales. How much of each task you are able to focus on each round is accomplished through a highly clever set of overlapping planning boards full of corresponding action symbols, along with a turn order based on your chosen sale price for the round.
As some who have gotten to play Smartphone Inc but not own it, this is one announcement we've personally been looking forward to. It's an enjoyably thinky game with a clever theme and lots of shifting economic areas to consider, and we'll be interested to see what changes they're bringing to the game as more information is revealed.
Look for Smartphone Inc to arrive on Kickstarter in June 2019.