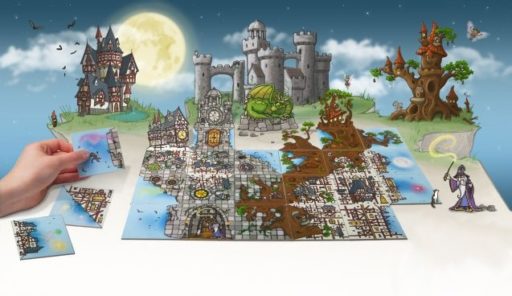 Renegade Game Studios has announced plans to release Castles of Caladale in early 2017. Designed by David Wilkinson with art from Erin Koehler (Blurble), Castles Of Caladale is a tile-laying game in which players rebuild castles torn down by an unfortunate mix of magic and low-rent labor.
Players will use the elements of the destroyed castles to assemble something new and, hopefully, a touch sturdier. Whichever player can put together the biggest and most complete castle by the end of the game will be the winner.
The game will include a set of 80 tiles, as well as four grass tiles,  a double-sided game board, character standees, and a sand timer. Castles Of Caladale will be playable alone or with up to three other players in about half an hour, and is expected to be on retail shelves by mid-February.