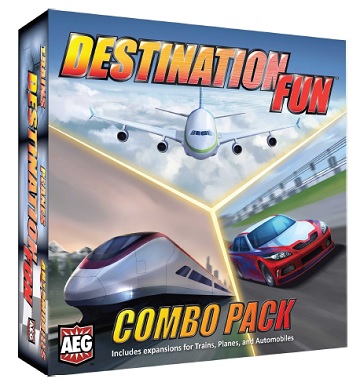 With AEG's Automobiles capping off the publisher's Destination Fun series earlier this year, it was only a matter of time before the company began looking to expansions to keep the wheels moving forward.
In the first quarter of 2017, AEG will release its Destination Fun Combo Pack, a box set priced at $80 that will include new content for all three games in the series, Trains, Planes, and Automobiles. Each game will benefit from one expansion in the box. Trains will get a new expansion called Coastal Tides, which promises new cards and three new boards, including two designed with two-player games specifically in mind. Planes will get the Round Trip expansion, which will add new tokens and cards on top of a pair of new game boards. Lastly, Automobiles will receive a new expansion titled Racing Season, which will introduce new cards and three new tracks, on top of new rules for running an entire racing season.
Also coming in early 2017 is a new expansion for Smash Up, again offering parodies and a host of ridiculous pairings, including Teddy Bears, Rock Stars, Grannies, and Explorers. Releasing in April, this latest set will lift the "shufflebuilding" card game's available cards to an impressive 50 different factions. Though, truthfully, are any as terrifying as last year's Kitty Cats? Hardly.
Other titles coming from AEG in the coming months include Dark & Light, a new dexterity game from Elysium co-designer Matthew Dunstan and Dice Heist's Trevor Benjamin, as well as The Captain is Dead, a frantic cooperative board game pegged for release in February. The Captain is Dead was initially funded on Kickstarter in 2014 by The Game Crafter, and puts up to 7 players in the role of crewmembers aboard a space ship in which things have gone terribly wrong. Players must repair critical systems and fend off an alien threat or else join their captain in certain doom.
These titles are each expected to arrive in the first few months of 2017, giving us plenty to look forward to once the holidays and turkey hangover have subsided.