Just as no two people completely encapsulate the entire human experience, so too is it the same with the games people make. Throughout the course of human civilization, games stand out as an excellent example of the progress of cultural exchange. Until the advent of modern games of the last century or so, tabletop gaming as we think of them were language independent and easily shared from one group of people to the next. They were an essential facet of intermingling between societies as individuals interacted and engaged with one another, serving an important role in bringing disparate groups together and ushering new ideas to new locations. Games are both a product and means of continuing to forge better human connections – whether that is across the street or across the globe.
The more exposure a society has to the larger world, the easier it is for people's appreciation of that game to spread. Though many now associate Chess with European and Russian courts, it originated long ago in India. Backgammon was a popular game in Mesopotamia for centuries but only really took off with the rise of the Ottoman Empire. Go has been played in China for millennia but has only really started to find worldwide appeal after WWII. Cribbage has been around for over 300 years in the British Isles, but it wasn't until WWII American submariners needed something to play during downtime that its popularity in the US exploded.
Contrast that with a game like Senet, which was popular in Egypt for centuries, but because the conquering Romans never really took to it, the game completely died out.
Indeed, just as the human condition benefits from continued exposure to one another, so too do games themselves benefit. After all, their primary purpose is to be played. The more people that are able to, the better of it is.
It is with that in mind that we head north to explore our latest title. WAY north, to Nunavik in the northern lands of Quebec – home of the Inuit tribes. Famous for their expansive culture spanning centuries in some of the coldest places on Earth, the Inuit continue to contribute to the modern world while proudly celebrating and honoring their heritage.
And as of 2020, those contributions now include a board game.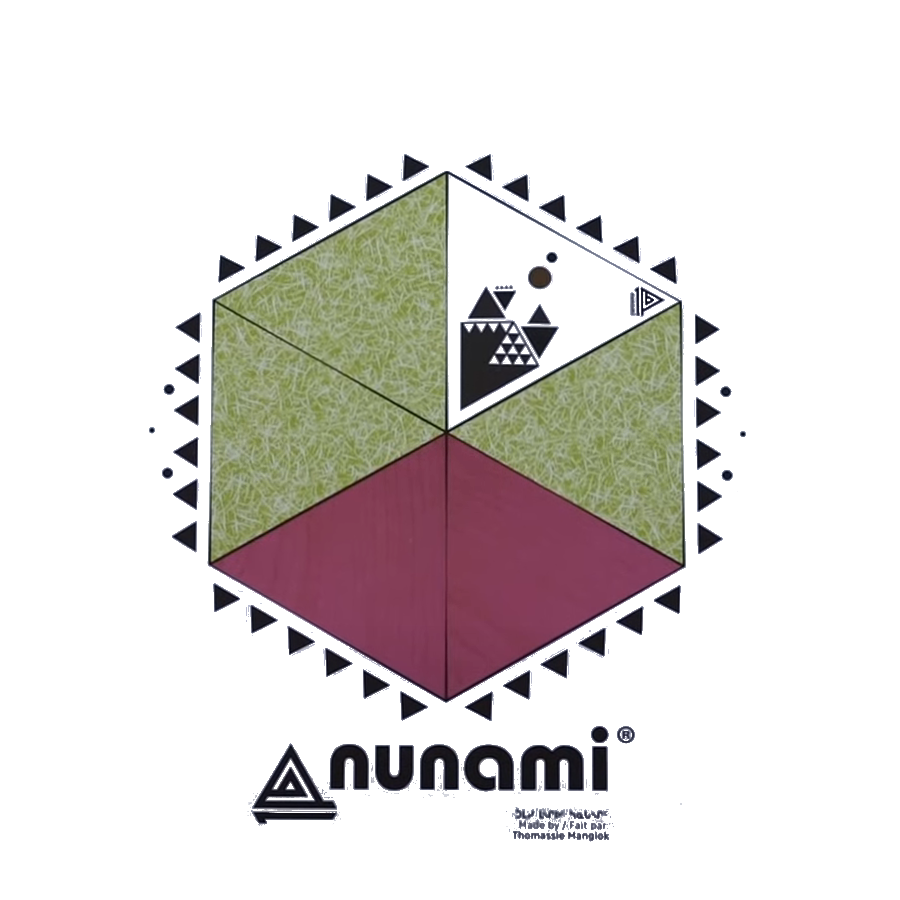 In this brisk 15 minute game of strategic placement, the inaugural title by native Thomassie Mangiok, Nunami is a quick area majority game where 2-4 players are trying to increase their influence on the board while maintaining a balance between a pair of colors – representing those of man and nature. Both sides have an identical set of cards, and each turn, players will place plastic (and fittingly water resistant) triangular cards to modular hexagonal sections. Nunami is somewhat deceptive in that initial card placement is simple, but because the manner of which you play cards can flip cards down or alter the point values of your opponent's cards, what starts as a basic placement game quickly becomes a fun and fitting contest of tactical placement – all while properly reflecting the design's origin. When a particular section is full, it is scored, and the first person to reach 4 points wins. Moreover, in a clever way to avoid repetitive gameplay, there is no "set" grid setup in Nunami, giving players the choice of creating variable layouts each time – and thereby creating all new strategic considerations.
Nunami is quick, engaging, and above all serves to show that gaming truly is a word wide experience.
We had some plan on ways of celebrating the incorporation of a new cultural perspective to the tabletop zeitgeist, but it turns out that quite a few of them were rather prohibitive. For one, we were going to send our intern Claudius up there to champion the game's release on its home turf, but current travel restrictions make journeying to anywhere in Canada south of the border technically illegal. And the last thing we need is for us to run afoul of the RCMP…again. (It's a long story.) Likewise, we decided the idea of quizzing everyone on the basics of Inuktitut syllabics would probably not attract a lot of attention.
So in the end we fittingly decided on a balanced approach: giving away a copy of the game and letting it alone serve as a worthwhile bridge to Inuit culture.
Yes, from now though December 10th, 2020, you can check out the contest details and enter below. Just follow the entry form and proceed with the contest. The more of these entries you do, even if just one, you still have a better chance than not entering at all. Of course you're welcome to do that too. But your odds of winning drop to zero. No pressure or anything.
The Cardboard Republic, in conjunction with Thomassie Mangiok is giving this game away strictly for entertainment purposes. This act is not a paid endorsement by Thomassie Mangiok or any other entity. This contest is open to individuals only. Staff members of The Cardboard Republic are not eligible to participate. For winners outside of the Continental US, the publisher reserves the right to request they cover part or all of the shipping costs.