Here's the thing about mad scientists: they're not to be trusted.
It seems so obvious in hindsight, but time and time again people are drawn in by suave, charismatic, and seemingly well-to-do individuals only to find out wayyyyy too late that dear Dr. Moreau may have a few screws loose. Of course, that afterthought may not do you much good while you're locked in a basement cell waiting to become their next human guinea pig. Especially once you realize that if they're willing to experiment on themselves, it's unlikely they're going to place much value on your well-being…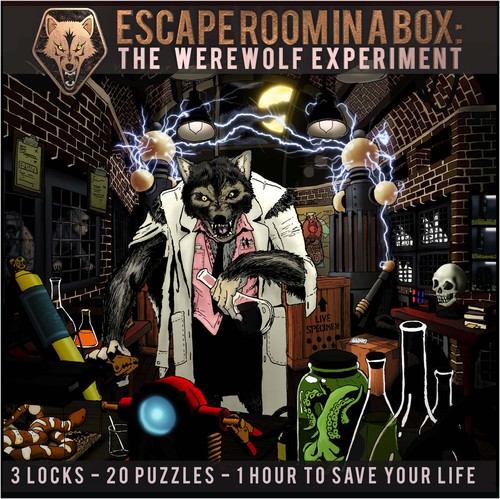 That's basically the premise behind Escape Room In A Box: The Werewolf Experiment. In this setting, a crazy scientist lady decided it was a good idea for the sake of her research to experiment on herself. As you'd assume, things went completely awry, and now she's an unstable werewolf bent on finishing her work at your expense. You and your dutiful investigative crew decided to dig into her research in the hopes of reversing the process. It was a solid plan. Except, as you find out once the doors slam shut that she's gone and booby trapped all her data, exposing you to a poison that will transform you all into werewolves too unless you can locate and open the antidote in time.
Apparently she wants a whole family of werewolves, and she's decided to adopt you.
Born out of people's enjoyment of classic point-and-click adventure games, the idea of an escape room is pretty simple. Take one or more people, and stick them in a locked room with only one means of escape and a limited amount of time to figure out how to do so. To win, you and your group must uncover clues, solve a variety of puzzles, uncover hidden items – pretty much anything that would make for a mentally challenging obstacle. The objectives of escape rooms are incredibly wide ranging, from solving murders, to finding hidden objects, to well, stopping the uncontrollable urge to hunt both cars and people with equal alacrity.
Over the course of an hour or so, players will have one shot to race through the game's nearly two dozen puzzle-laden traps, unlock the antidote, and make it out before you have to start worrying about fleas and mange.
Well, what are you waiting for? The clock is already ticking, and it's quite likely if you've caught the attention of one mad scientists, others are already taking notice on how to subject you to similar ordeals.
We can't fight all your battles for you. The best we can do to help is give you a copy of the game to help train yourself when the real thing comes. We'd love to aid you further, but, you know, spoilers. So gather your victims, er, friends, set the clock, and get ready for a howling good time!
From now until midnight EST on September 2nd you can check the contest out on our Facebook page, or by entering below. Just follow the entry form and proceed with the contest. The more you do, even if just one, you still have a better chance than not entering at all. Of course you're welcome to do that too. But your odds of winning drop to zero. No pressure or anything.
The Fine Print: The Cardboard Republic, in conjunction with Stay At Home Werewolves is giving this game away strictly for entertainment purposes. This act is not a paid endorsement by Stay At Home Werewolves or any other entity. This contest is open to individuals only. Staff members of The Cardboard Republic and Stay At Home Werewolves are not eligible to participate. For winners outside of the Continental US, the publisher reserves the right to request they cover part or all of the shipping costs.