We live in an age where we are constantly bombarded with new information and new ideas. The world as we know it changes pretty quickly, and sometimes it's hard to keep up with daily activities, let alone important news or groundbreaking new discoveries. In an era where most people walk around with tiny computers in their pocket capable of accessing most of humanity's collective knowledge at a moment's notice, the burdens of waiting for new information to reach us are, quite literally, exponentially lower than they were just a generation or two ago. And we're increasingly taking that amazing fact for granted. There is no longer the requirement that we must wait for a local publication for current events or for national and international galas to learn of the progress of mankind.
Granted, we often squander that luxury on cat videos and celebrity gossip, but that's another story.
Yet there was a time not all that long ago where the world hosted – and was noted for – massive and lengthy global expositions to share and celebrate news and ideas with one another. There were Olympics-sized events that lasted for months. These were the World's Fairs.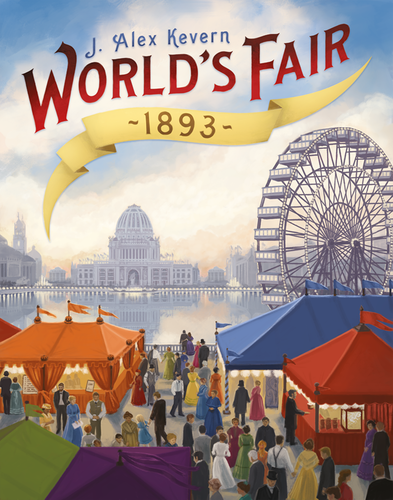 The World's Fair of 1893 was an event for the history books, and by all accounts was truly a sight to behold. This latest game seeks to capture a portion of that feeling.
In this game, each player is one of the fair organizers trying to prove they are the staff member best suited to run a world class operation. Your goal is to be the person with the most reputation after three rounds. Using a combination of card set collection and strategic cube placement, players take turns sending some of their supporting staff to one of the game's five major exhibit areas, such as Electricity, and taking any cards in that spot. These cards consist of Influential People or potential exhibits to show off in those areas. There are also Midway tickets, which provide points at the end of a round while also bringing everyone one step closer to the end of the round by way of advancing the game's Ferris wheel. It moves pretty quickly, and you'll have some placement decisions to make.
So hold on to your dapper hats and ready for a bully good time!
We can't take you back to 1893 (for legal reasons), but what we can do to help celebrate the fair is provide one lucky person with a copy of the game so they may enjoy this gaming homage to one of the great moments in history. All you have to do is go on a little sightseeing tour of the fairgrounds with us by entering the contest below. But don't worry: unlike the real fair, this stroll will be quick.
From now until midnight EST on June 1st you can check the contest out on our Facebook page, or by entering below. Just follow the entry form and proceed with the contest. The more you do, even if just one, you still have a better chance than not entering at all. Of course you're welcome to do that too. But your odds of winning drop to zero. No pressure or anything.
The Fine Print: The Cardboard Republic, in conjunction with Foxtrot Games and Renegade Game Studios is giving this game away strictly for entertainment purposes. This act is not a paid endorsement by Foxtrot Games, Renegade Game Studios, or any other entity. This contest is open to individuals only. Staff members of The Cardboard Republic, Foxtrot Games, and Renegade Game Studios are not eligible to participate. For winners outside of the Continental US, the publisher reserves the right to request they cover part or all of the shipping costs.