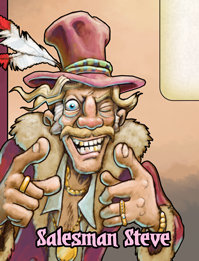 The dark and seedy underbelly of Black Market trade is enough to make most people cringe. But we can tell that you're not most people. You know that the world doesn't move forward on rainbows and puppies. Sure, that'd be nice, but that's not the reality of the situation. So, welcome to the arms bazaar.
We understand you are on the hunt for some fancy weapons – probably to give you an upper hand on the prolonged (or seemingly endless) blood with your neighbors. Well, we have what you seek. Top notch stuff too. Fine swords, axes, maces all, and a few nice vorpal weapons too. They're second to none in quality and they're all yours my friend, if only you have the coin to pay for them…
This is the setup of Battle Merchants, an economic game between competing arms merchants. The battles themselves are but a trivial aspect to the larger issue at hand: which of you are going to be able to make the most money off of a land of war and strife?
The game progresses simply enough, with players angling to create and upgrade their weapons and sell them to whichever faction will give you the best deal. This is controlled by a series of battlefield locations that expand as the game unfolds over four seasons. You can check out our full review of the game here: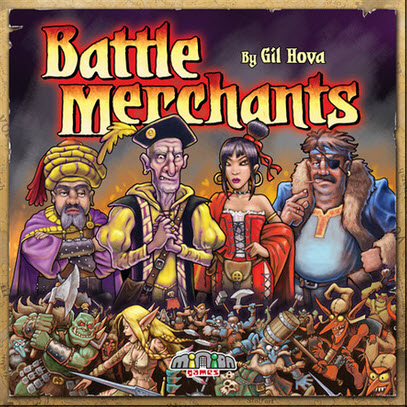 It's not easy being an arms dealer, but it's certainly easier than being a soldier on the battlefield. And Battle Merchants is easier than both. With a variety of strategies and the ability to pick the game up quickly, it's a solid game of supply and demand.
Speaking of which, we have an offer for you. Since the demand is there, we'll be supplying a brand new copy of this game.
From now until midnight on Saturday September 27th, you can check the contest out on our Facebook page, or by entering below. Just follow the entry form, and proceed with the contest. The more you do, even if just one, you still have a better chance than not entering at all. Of course you're welcome to do that too. But your odds of winning drop to zero. No pressure or anything.
The Fine Print: The Cardboard Republic, in conjunction with Gil Hova and Minion Games is giving this game away strictly for entertainment purposes. This act is not a paid endorsement by Minion Games or any other entity. This contest is open to individuals only. Staff members of The Cardboard Republic and Minion Games are not eligible to participate.