Few things are more iconic to Americana than that of the Wild West. Daring bank robberies and epic shootouts. Clashes with Native Americans. Hopeful-yet-harrowing tales of westward bound settlers. The world-changing power of the locomotive and strong, silent cowboys on their lengthy cattle drives. Owed in part to decades of movies and television, mixed with cherry-picked moments of a relatively short period of American history, the myth of the Old West taps into many of the most ingrained aspects of American philosophy. From a deep-seated sense of rugged individualism, to a stern skepticism of authority, to the enduring Dream that anyone can make it here with enough grit and determination, the Wild West became an important setting not only because it helped shape a distinctly American identity, but because it presents itself in such a stylized manner that it gave itself long lasting appeal.
Of all the examples to tap into that profound period of change, however, few events encapsulate the idea of the West better than that of the California Gold Rush. Go westward! Stake a claim! Strike it rich! It's a simple message, and clearly one that resonates even to this day. Just the idea of finding gold and becoming rich was enough for many adventurous or downtrodden individuals to uproot themselves, travel to the opposite side of the continent, and spend months on end in mines, along riverbeds, and pretty much anywhere else the rumors directed them. For most participants, things didn't pan out all that successfully. But for a lucky few, their life took a dramatically more profitable turn.
Those are the odds you're playing into with End of the Trail, the inaugural title by Elf Creek games.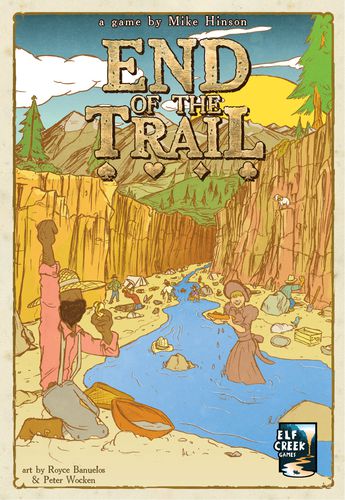 In this game of prospecting and dreams of a better tomorrow, players are a bunch of fortune seeking forty-niners who have come in the search for gold. Using an excellent blend of mechanics and flavor, players spend several rounds trying to improve their fortune. Some of these efforts are in their control, but some are up to the hands of fate.
And hands of poker.
Although the bulk of the game is based largely around a modified deck of standard playing cards, the cards in End of the Trail serve more than one function. In all cases, though, they are used in the repeated cycle of trying your hand at a large payoff, be it trying to stake a random claim on the board or trying to set yourself up at the end of the round with the best poker hand for some extra gold to line your pockets. After a few rounds, whoever has the most gold is the winner. For everyone else, it's back to the river pans.
The real Gold Rush may have been a costly and painful experience for many prospectors proffering for prolific profit, but End of the Trail is a concise and approachable half hour exercise in trying to make it rich. With a light touch of push your luck elements alongside the clever use of multipurpose poker cards that get the theme across without needing foreknowledge about poker at all, End of the Trail is a decent little nugget of gaming goodness all its own.
To celebrate that, we originally were going to bury a copy in the hillside and see who could geocache their way to it. But we decided the easier thing to do instead would be to simply give a copy away online. So step on up and see if your luck is better than a forty-niner!
From now until July 1st you can check the contest out on our Facebook page, or by entering below. Just follow the entry form and proceed with the contest. The more you do, even if just one, you still have a better chance than not entering at all. Of course you're welcome to do that too. But your odds of winning drop to zero. No pressure or anything.
The Fine Print: The Cardboard Republic, in conjunction with Elf Creek Games is giving this game away strictly for entertainment purposes. This act is not a paid endorsement by Elf Creek Games or any other entity. This contest is open to individuals only. Staff members of The Cardboard Republic and Elf Creek Games are not eligible to participate. For winners outside of the Continental US, the publisher reserves the right to request they cover part or all of the shipping costs.