Pack a tiny suitcase and be prepared for compact seating, because we're heading into a land that has massive ambitions but itty bitty living space!
Welcome to the land of Tiny Epic Kingdoms. The realms of this land desire to expand their kingdoms so they may increase their population, their knowledge, and the scope of their civilization. The only problem is that everyone seemingly want to do this at once. And there's only so much land to go around. So gather your small arms weaponry and head for the border, because there's some fighting to be done!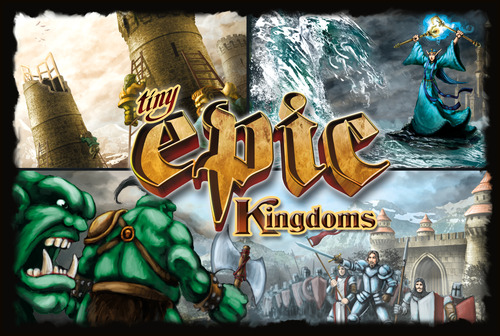 Tiny Epic Kingdoms is designed to give players the feel of a 4X game in about a half hour. This small box experience has players making new units, spreading out across the map, acquiring resources, and using all of their race's talents to their benefit. Players can set up, throw down, and finish out a game of TEK in less time it takes to explain the rules of some big box 4X games, making it both a nice homage to them while giving players a short, concise experience.
Now, speaking of being concise, we're going to do that here as well. This is a Tiny Epic Giveaway.
How is it Tiny? Because you only have six days to enter!
How is it Epic? Because we're giving away a Deluxe Edition of the game that comes with the base game, two additional factions, some custom dice, and a digital art download as well as a set of TEK sleeves.
How is it a Giveaway? Well, we have it. We'd like to give it to you. We're giving it away. Hence the term.
From now until midnight on Monday, December 1st, you can check the contest out on our Facebook page, or by entering below. Just follow the entry form, and proceed with the contest. The more you do, even if just one, you still have a better chance than not entering at all. Of course you're welcome to do that too. But your odds of winning drop to zero. No pressure or anything.
The Fine Print: The Cardboard Republic, in conjunction with Michael Coe and Gamelyn Games is giving this game away strictly for entertainment purposes. This act is not a paid endorsement by Gamelyn Games or any other entity. This contest is open to individuals only. Staff members of The Cardboard Republic and Gamelyn Games are not eligible to participate. For winners outside of the Continental US, the publisher reserves the right to request they cover part or all of the shipping costs.