The royal regent is dying, and soon the heirs to the throne will clash over the rite of succession. Only one child may inherent the crown, and it's up to you, the players, to figure out how to best go about that. Using a mix of skill and timing, one of you will outmaneuver your competition and emerge victorious on coronation day.
Et cetera, et cetera et cetera, right? After all, chances are you've heard this story before, especially in gaming. Why should this royal family squabble matter over any of the rest?
Well, for one, it turns out that the head of a monarchy can be a woman. Honestly, this shouldn't be a surprise. England's had one for almost a century at this point. Secondly, it's a succession game that's decidedly combat-free.
Yes, Monarch thematically upends the status quo. In Monarch, it is the Queen who rules, and it is she who is dying. The Queen has four daughters – the players – who must compete with each other in a nonviolent game of skill to see who shall claim the title. In this tableau-building game, players must acquire cards to build up their influence over their other sisters. Occasionally, however, players are forced with situations where they can briefly cooperate to everyone's benefit…or they can refuse and spite one another.
Hey, there may be less sword clashing, but it's still a fight of succession.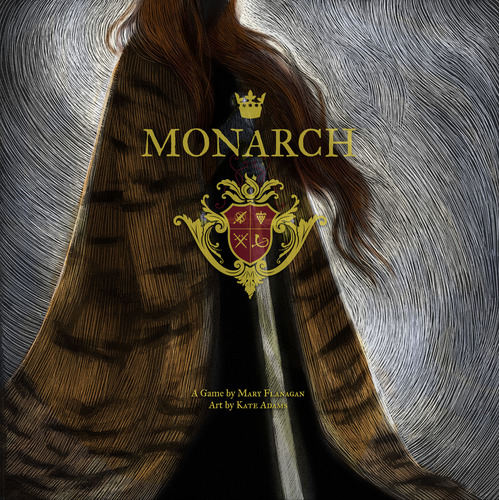 Although the theme isn't heavy-handed, Monarch desires to let you know that this game's setting is all about being able to pass the torch of succession without necessarily having to go and murderfy one another in doing so. That said, it's not like your sisters competing for the throne are just going to roll over and give it to you. Remember the last time you had to borrow something? Now imagine if that was supreme power, and the time frame for giving it back was never.
Right, so we can't predict how it'll go for you down the line once you secure the throne, but that's another problem for another day. Besides, it's not like royals ever resort to schemes to usurp power or anything.
Anyhow, while deliberations are underway for the monarch's daughters to establish their claim to succession, we thought now would be an opportune time to give them the platform to make their case. We have decided to hold court as we find out who the new leader of Minervia will be, and you are hereby invited. We have sent word to many other dignitaries and heads of state, so please do come on your best behavior.
In exchange for joining our little soiree, we're going to be providing one lucky winner with a free copy of Monarch. That way you can experience all of the intrigue and challenges that come from fighting over the throne without all that potential regicide bother.
From now until 11:59PM EDT on Tuesday, December 1st, you can check the contest out on our Facebook page, or by entering below. Just follow the entry form and proceed with the contest. The more you do, even if just one, you still have a better chance than not entering at all. Of course you're welcome to do that too. But your odds of winning drop to zero. No pressure or anything.
The Fine Print: The Cardboard Republic, in conjunction with Mary Flanagan LLC is giving this game away strictly for entertainment purposes. This act is not a paid endorsement by Mary Flanagan LLC or any other entity. This contest is open to individuals only. Staff members of The Cardboard Republic and Mary Flanagan LLC are not eligible to participate. For winners outside of the Continental US, the publisher reserves the right to request they cover part or all of the shipping costs.