"How did you get into gaming?" This is a common question bandied about when it comes to understanding the various avenues people stumbled into the larger tabletop world. Like Alice down the rabbit hole, all of us at some point have gone through the epiphany moment when we found out that games were more than hoarding Monopoly hotels and sinking one another's battleships. It's a formative experience, that realization. And for most of us, once we entered this cardboard hobby realm, we haven't really looked back.
For some people, their access point into tabletop came from trading wood for sheep and battling over Catan.
For others, gaming started by pulling out their very first D&D character sheet and settling in for the imaginative worlds of RPGs.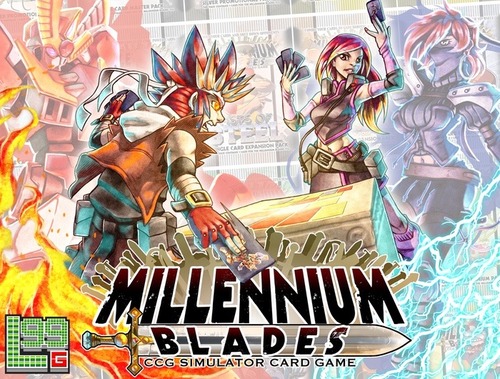 There is a fairly sizable percentage of gamers, though, whose gaming education started with the world of Collectible Card Games – especially if their entrance came in the mid 1990s at the absolute height of the CCG craze. From Magic: The Gathering to Yu-Gi-Oh, Pokemon to Legend of the Five Rings, CCGs were made for just about anything. Wanted a CCG about a TV show? Babylon 5. Prefer gothic horror to fantasy? Vampire: The Eternal Stuggle (nee Jyhad). There was a Game of Thrones CCG long before it became a cultural touchstone, and in 20 years there's been like four different iterations of Star Wars.
And those are just the ones considered decent.
Many have come and gone over the years. But recently a new title has taken the CCG world by storm: Millennium Blades.
In Millennium Blades, players act as fans of a popular CCG seeking to be the very best card player around. This includes acquiring valuable cards, opening randomized booster packs, trading with other players, and dealing with the nefarious secondary market, all so you can customize your deck and hope it's good enough to make it on the tournament scene.
Yet instead of taking weeks of preparation and last month's paycheck, this game gives you the same excitement and anxiety that makes the genre so alluring, all in the span of a couple hours. Millennium Blades isn't a CCG in a box – it's the entire CCG apparatus in the box, complete with all the glory and pitfalls of a real collectible card game. And yet you don't have to know a single thing about what a Blue Eyes White Dragon is or why everyone freaks out over a flower called the Black Lotus. For CCG veterans, Millennium Blades will feel pretty familiar, but for those who never understood what made CCG games so popular in the first place, this is the perfect opportunity to do so – all with zero up front investment.
So grab your card sleeves and get ready to crack some packs. It's time to throw down and face off in Millennium Blades.
The upside to all this effort is that it's possible you could go in to be a real Millennium Blades Maven, a tournament prodigee the likes the game hasn't seen yet. We believe in you potential. But you have to believe in yourself first. That's why we're going to give a copy of this CCG simulator away. It is your first real test if you want to make it to the Pro Tour. If you think you have the skills, the now's your big chance! From now until midnight EST on July 5th you can check the contest out on our Facebook page, or by entering below. Just follow the entry form and proceed with the contest. The more you do, even if just one, you still have a better chance than not entering at all. Of course you're welcome to do that too. But your odds of winning drop to zero. No pressure or anything.
The Fine Print: The Cardboard Republic, in conjunction with Level 99 Games is giving this game away strictly for entertainment purposes. This act is not a paid endorsement by Level 99 Games or any other entity. This contest is open to individuals only. Staff members of The Cardboard Republic and Level 99 Games are not eligible to participate. For winners outside of the Continental US, the publisher reserves the right to request they cover part or all of the shipping costs.