Think back to the last time you were sitting around having a friendly poker game, and your friend invites along someone who turns out to be just a little too good for a first-time guest. They're raising aggressively, forcing hands, bluffing their way to the top of the chip stack, and they're perfectly proud of doing that. Yes, your friend dumped a card shark into a koi pond, and it sort of went south from there. It's guaranteed way that person doesn't get invited back, and it's never fun being on the receiving end of a good poker thrashing.
Still, it could be worse.
After all, what if this player had the power to manipulate the cards? Or use his powers of persuasion to make you fold? Or simply mentally convince you that you don't actually have the winning hand? What if he just decided to simply turn you into a chair for the evening? How humiliating.
Luckily, wizards have never been prone to partake in regular poker. They much preferred their own brand of  wizard poker. Still, while the abundance of wizards themselves has waned over the years, the allure of wizard-style poker has not. Luckily, thanks to tireless effort of many contributors, people have cobbled together an accurate reproduction of how it was played. The result of that is Hocus.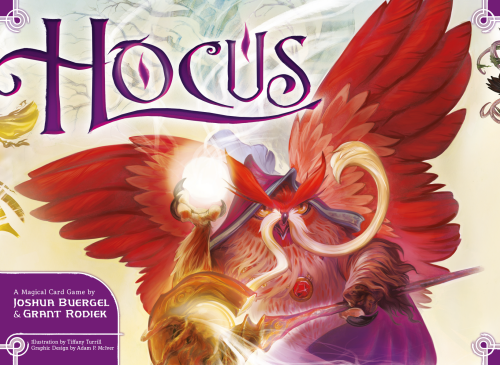 In Hocus, 2-5 players have the same goals as in normal poker, but they also have a handful of spells at the ready to aid them. At its most basic, each turn players attempt to build up a community pile of cards, stash cards from your hand into a betting pocket, and feed the pot in the hopes of winning big!
Of course, things start getting complicated when you have two communities, two pots, and a whole bunch of unique abilities being thrown about. That is Hocus at work for you. What seems like a straightforward hand management system can often be a series of tricksy wizards trying to sway different parts of the table in their favor.
But, really, since when do wizards do anything easily? So pull up a (normal) chair and get ready for some human-friendly wizard antics!
Hocus doesn't require magical potential, nor does it require you to be at all knowledgeable about actual poker. So that's your first win right there. But we're going to up the ante by taking it one step further and providing one lucky person another win in the form of a copy of a game itself.
Yes, while we can't summon Gandalf to your house (he's a bit hard to reach these days), we're offering the next best thing in the form of Hocus, the recreational game of wizards everywhere!*
Time is short, however! Like a quick poker hand, you only have a limited number of days to enter! From now until midnight EST on January 31st you can check the contest out on our Facebook page, or by entering below. Just follow the entry form and proceed with the contest. The more you do, even if just one, you still have a better chance than not entering at all. Of course you're welcome to do that too. But your odds of winning drop to zero. No pressure or anything.
*not actually guaranteed. We can't speak for all wizards. Just those in the tristate area.

The Fine Print: The Cardboard Republic, in conjunction with Hyperbole Games is giving this game away strictly for entertainment purposes. This act is not a paid endorsement by Hyperbole Games or any other entity. This contest is open to individuals only. Staff members of The Cardboard Republic and Hyperbole Games are not eligible to participate. For winners outside of the Continental US, the publisher reserves the right to request they cover part or all of the shipping costs.