Life, man. There's a lot of hustle, and a lot of bustle. If you aren't careful, your days of saving townspeople and stopping hobgoblin incursions will take its toll on you. It's natural to feel like the world may crumble without you and your companions to prop it up, but we promise: it'll still be there in a couple weeks. Your HP is looking a little low, and we noticed your initiative score isn't as high as it could be for your experience level. If only there was a way of getting a genuine reprieve…
Luckily, the game Epic Resort affords players the perfect excuse for a little rest and relaxation! Nestled in the warm waters and balmy breezes of the South Pacific, this quiet little paradise is the ideal sort of place you'd want to go to escape your worries, put your feet up, and enjoy some tranquility.
Just try to avoid the dragons.
Really you can't ask for a better vacation destination than this.
Also there's pirates.
We promise that our staff will be prompt, courteous, and be able to assist you with your every need.
Except Leon. He's lazy, but for beauacratic reasons we can't fire him. Unless it's out of a cannon.
What are you waiting for? Come to a resort destination designed for heroes just like you!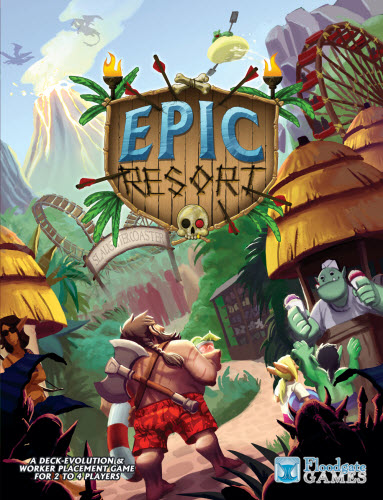 Epic Resort provides even the most chaotic neutral characters a short respite. In it, players use a mix of deck management and worker placement mechanics to bring in tourists, upgrade resort attractions, and of course, entice in the heroes. The only catch is that the more amazing you make your island, the more monsters are going to want to show up. Whether it's because they seek revenge on the visiting heroes or they just simply enjoy causing havok we aren't sure. Still, those who stave them off and build the most praise-worthy resort will have the appreciation of adventuring parties the world over.
We figure to try our hands on this as well. So, we're looking to make the best hero resort possible, and we're calling it Awesomesauce Island. We have some ideas on how to do it, but we're going to need your help. We've come up with three new attractions for Awesomesauce Island, but what we're lacking are some equally awesome names for them.
In return for your help in this, we're going to be giving away two copies of the game.
Yes, two.
The first winner will randomly-picked, per usual.
The second winner will be chosen by us from among all of the submitted attraction names. We'll be picking the one that we find the more fitting, funny, or clever from amongst the entries.
From now until midnight on Tuesday, December 29th, you can check the contest out on our Facebook page, or by entering below. Just follow the entry form, and proceed with the contest. The more you do, even if just one, you still have a better chance than not entering at all. Of course you're welcome to do that too. But your odds of winning drop to zero. No pressure or anything.
The Fine Print: The Cardboard Republic, in conjunction with Ben Harkins and Floodgate Games is giving this game away strictly for entertainment purposes. This act is not a paid endorsement by Floodgate Games or any other entity. This contest is open to individuals only. Staff members of The Cardboard Republic and Floodgate Games are not eligible to participate. For winners outside of the Continental US, the publisher reserves the right to request they cover part or all of the shipping costs.