For centuries we've hard that magical potions are nothing more than fanciful stories, idle wishes made by everyday people looking to make their life a little better. Whether it's the elixir of life or the elixir of trying to get your cousin Jeffrey's feet to not smell like bad cheese for like five minutes, humans have longed for a quick and simple magical solution to what ails them. Of course, since magic potions never exist, the world grew up and moved on from such silly notions.
Except…rumor has it that they are real. And the best draughts are almost unilaterally controlled by a nebulous but scarily-powerful group called The Secret Potion Society.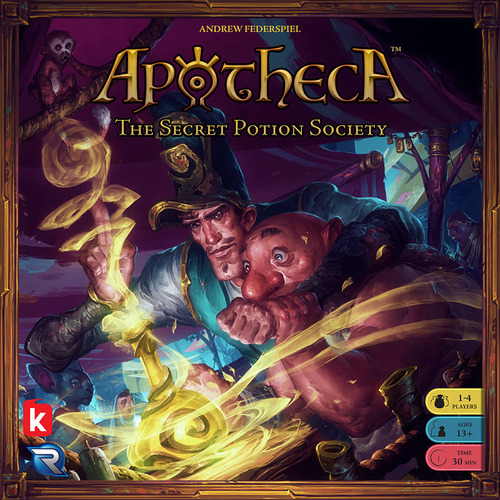 But you already knew that, didn't you? As an aspiring chemist of the hidden realm, you've been seek out an audience for some time. Well, they've been keeping their eye on you too. So, since we're such kind people here, we've decided to set up a meeting to see if you have what it takes to make it into their ranks – but be careful: these potion-poppers don't mess around with amateurs. You better be ready to bring your A game.
That remains true with the game itself too. On the surface, Apotheca is a basic 'match three' style game played out on a grid using different colored potions. Your goal is to be the first to claim three of these matching sets. Accomplishing that is easier said than done, however. See, the thing about dealing with potion-makers, like most highly skilled tradecraft, is that rivalry is rampant. In this world of magic meddling, knowledge of the arcane is treasured above flattened pieces of metal and shiny pieces of rocks.
Just like you, every apothecary at this meetup will be trying to give themselves the edge while also disrupting the opposition. Using a combination of hidden information and individual player powers, what you know about the state of the the board – and what you think you know – may not be the same. Therefore, to gain our vouching for you into this meeting with guild members, you must outmaneuver, out think, and outperform your opposition.
This is your Willy Wonka moment. The Golden Ticket is within your grasp. All you need do is prove you're better than the rest of your cut-rate competition. That, and try to not turn anyone into an ogre again. The last thing you need is another Helsinki incident. Liability went through the roof after that…
So here's how it's going to work. If you want a meeting with The Secret Potion Society, we need to know you're serious. We're willing to put one lucky person through a trial run using the game as a test scenario. If you think you're deserving of that opportunity, then step right up and enter for a chance. From now until midnight EST on April 30th you can check the contest out on our Facebook page, or by entering below. Just follow the entry form and proceed with the contest. The more you do, even if just one, you still have a better chance than not entering at all. Of course you're welcome to do that too. But your odds of winning drop to zero. No pressure or anything.
The Fine Print: The Cardboard Republic, in conjunction with Knapsack Games and Renegade Game Studios is giving this game away strictly for entertainment purposes. This act is not a paid endorsement by Knapsack Games, Renegade Game Studios, or any other entity. This contest is open to individuals only. Staff members of The Cardboard Republic, Knapsack Games, and Renegade Game Studios are not eligible to participate. For winners outside of the Continental US, the publisher reserves the right to request they cover part or all of the shipping costs.