There is a pervasive thought that exists, not just in gaming but in the entire concept of competition in general, that competing against others must inherently be one of aggressive conflict. To many, even benign contests against an opponent are akin to a battlefield skirmish, as if not being first across the finish line or ending with fewer points will bring dishonor to your name for years to come.
While there are certainly a subset of games which embody those sentiments – indeed there isn't anything inherently wrong with being ferociously invested in the outcome of a contest if it's warranted – they don't speak for the totality of the gaming experience. The true beauty to games is that their sheer variety includes those providing a genial challenge without being overtly challenging. They can be competitive without being hostile. You can elevate yourself to victory without having to punish the other players to do so.
Yes, healthy competition is both welcomed and warranted, surely, but winning a game doesn't need to be all about crushing someone's forces or bankrupting their fortune 500 company. It could be something as simple as…feeding some ducks.
And honestly, given the events of 2020, a lighthearted game centered on wandering around a park feeding avian friends seems like the perfect recourse, don't you think?
Luckily, we have such an opportunity. Because with Ducks in Tow, the latest title by First Fish Games, that's exactly what your goal is.
Your entire goal.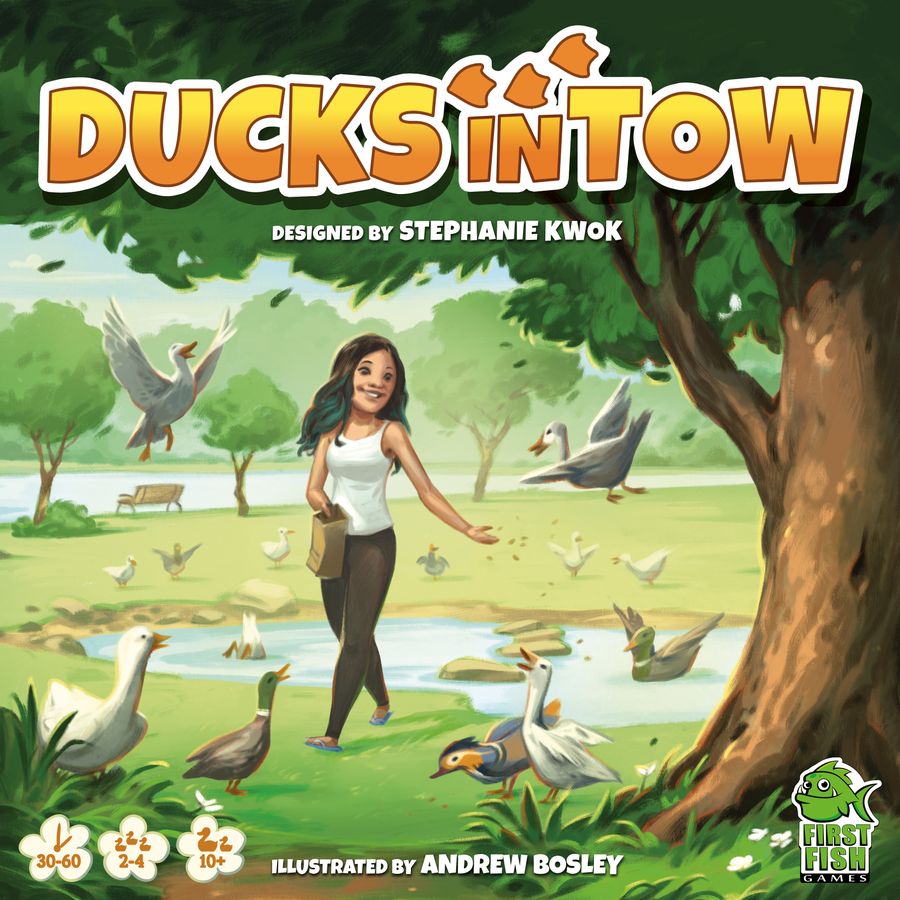 In this hour(ish) action selection and set collection game, each player has finds themselves in a local park to whittle away the hours. As you stroll from location to location, you have the opportunity to feed various ducks on your spot their favorite foods. In doing so, you quickly find yourself with a flock of feathered friends following you underfoot, represented by excellent duck-shaped meeples.
Turns consist of moving around the park, gathering food, and enticing ducks to tag along, all with the general purpose of fulfilling Location cards with specific duck requirements. If you can bring the correct assortment of ducks to that location that card is completed: those ducks will waddle off again and you will successfully score that card at the game's end. The twist is that each completed Location card is slotted to one side of any others completed, which determine the potency of scoring potential as you strive to make rows of matching duck colors for the end of the game. To further strategic choices, the game also implements Formation cards – a clever use of translucent overlay cards which allow you to score bonus points if you can create the right patterns of duck symbols with your Location pile. Whichever person manages to have the most efficient day at the park at the end of the game, wins.
Ducks in Tow is light and clever, with a charmingly refreshing theme, casual pacing, excellent table presence, and an innovative use of an overlay mechanism – all while still possessing strategic decision-making in the process.
Now, while we fervently believe that on some level everyone wins in this title, we've decided to wrap up 2020 by raffling off a single copy of the game. So, we suppose technically in this case there can only be one physical winner. Why not make it you? If this sounds like your kind of scenic jaunt, then lace up those shoes, grab some feed, and let's go for a stroll!
Yes, from now though January 9th, 2020, you can check out the contest details and enter below. Just follow the entry form and proceed with the contest. The more of these entries you do, even if just one, you still have a better chance than not entering at all. Of course you're welcome to do that too. But your odds of winning drop to zero. No pressure or anything.
The Cardboard Republic, in conjunction with First Fish Games is giving this game away strictly for entertainment purposes. This act is not a paid endorsement by First Fish Games or any other entity. This contest is open to individuals only. Staff members of The Cardboard Republic and First Fish Games are not eligible to participate. For winners outside of the Continental US, the publisher reserves the right to request they cover part or all of the shipping costs.