Welcome back to week forty-one of Monday Magic: COVID Edition. It's been 324 days since my last summoning, which I have to admit doesn't sound nearly as imposing as forty-one weeks. Or 10 months for that matter. But that's where I find myself at this juncture.
I continue to grapple with the dual realities in which most of us currently find ourselves – neither of which is the completely bonkers un-reality a small but impacting percentage of our citizenry seems to prefer to exist in these days. Those folks seem to exist solely with their own iteration of The Upside Down, except that the hivemind naturally thinks the Mind Flayer won the election fair and square. For us, however, things are indeed continue to proceed along a duality that is often tough to navigate both physically and mentally. On the one hand, the pandemic yet rages on, with thousands of new cases and deaths every single day. Thousands. January alone lost nearly 100,000 people.
Never let yourself become accustomed to those terrible facts.
On the other hand, progress is being made, however slowly. There is some evidence that hospitalization numbers and fatalities have started to trend downward ever so tepidly, and that hopefully will speed up once more and more of the population gets vaccinated. As of writing this approximately 7-8% of the US population has gotten their first dose, and 1-2% have received their second one. These are low numbers in abstraction admittedly, but each percentage point amounts to millions of people. Every shot is potentially life-saving. So it's not nothing.
Though one can't truly process one of those sets of facts without the other, it can be helpful to nevertheless focus on the positive. Things are starting to move in the right direction, even if it's not as fast as we want. And that's the part I choose to focus on at the moment.
It is that line of thinking that brings me to this week's card pick. Per usual throughout this series' COVID-based interim, we've mostly showed off Magic cards I've wanted to put into an EDH deck for some time but haven't for one reason or another, rather than basing the article around a Magic-centered topic with a particular Commander card under the spotlight. That doesn't change this week. In order to get people around the tables again, we need to address our current collective ailments. But since it does seem like we've turned a corner of sorts, that has reminded me of a particular card on my To Use list.
Today we have: Revel in Riches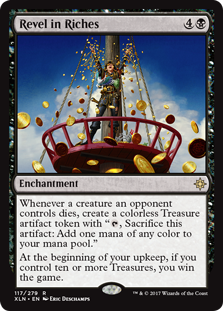 Name: Revel in Riches
Edition: Ixalan
Rarity:  Rare
Focus: Mana Generation / Alternative Win
Highlights: Sometimes when a new card is released you can immediately tell where it'll be most usefulness. Some cards are clearly intended for tournament use or as chase rares to sell product. Others are very much for Limited use in an effort to balance out drafts. In a few products Wizards makes it abundantly clear as to its format audience (i.e. unique cards in Commander decks intended for multiplayer use), but most releases are with multiple player preferences in mind. It's up to the players themselves to parse through the set and figure out who the card is designed for. With Revel in Riches, it's very much the casual player.
Revel in Riches is another in a long line of cards that offer an alternative win condition which you can work towards, nearly all of which have the casual player at heart. When it comes to competitive play, providing another means of winning sounds good in principle, but they are never as forthright and effective as simply bringing your opponent's life to zero. Casual players on the other hand, who aren't as focused on winning in as few turns as possible, tend to enjoy the added creative challenge such cards provide. They are, by definition, a specialized hoop to jump through to accomplish their goal, which almost always require extra resources and/or needing to tailor your entire deck to increase your odds of success. Some alternate win cards are more complex or convoluted than others (Revel in Riches being one of the most straightforward in that category), but they all bring with them an added goal of something to work towards – as well as the prospective thrill of achievement should you actually pull it off. In the case of this five-mana enchantment, Revel in Riches simply says that at the beginning of your turn if you have 10 or more Treasure tokens, you win the game.
It's a pretty lucrative way to win, surely. But from a Commander standpoint, its alternate win-con is completely secondary. Because winning requires possessing 10 or more specific artifacts, as well as the enchantment itself, in most play groups this can be a fairly easy thing to disrupt with multiple opponents collectively facing down the prospect of immediately losing due to inaction. Its goal may be simple, but reaching for such a brass ring makes it all the more vulnerable.
No, from an EDH standpoint, the real bounty comes from this card's first ability.
While the top half of Revel in Riches certainly feeds the second, it's incredibly advantageous all on its own. It states that whenever an opponent's creature dies, you gain a Treasure token which can be sacrificed at a later point for 1 mana. Hidden in plain sight here is essentially a Black mana battery, letting you bank mana anytime someone else's creatures bite the dust. In a format with numerous opponents and awash with creature removal and board wipes in nearly every deck, having this card on the battlefield is highly useful in caching extra mana to cast even more potent cards. To this end, Revel in Riches is massively helpful in temporarily boosting your later mana output.
Moreover, utilizing this card with that angle in mind reduces the likely number of Treasures you'll have at any given time – which in turn help reduce the potential board threat it would pull if you only focused around unlocking its win con instead. It's also handy that the Treasure tokens work completely independently from the enchantment, should it be destroyed.
Black has long had access to odd but splashy ways of generating extra mana (Dark Ritual, Cabal Coffers, Crypt Ghast, etc.), and Revel in Riches is no different, joining the ranks of its multiplayer-friendly predecessors.
But don't just take my word on it. Part of the card's appeal is finding out for yourself just how rewarding it actually can be. And we all could use a little extra good news these days.
Keep an eye out for us to be regularly featuring other more accessible-but-worth-it Commander cards going forward. In the meantime, we'll keep the light on for you.

You can discuss this article over on our social media!