Make it stop! Make it stop! I promise I'll be good, I swear!
If there's one thing I've learned thus far in this collaborative deck building endeavor, it's that time-wise I'm definitely a little out of my element here. I knew a time-restricted approach would be more than a little challenging for me, but I wasn't prepared for the amount of effort that was involved to get the job done in such a short span. In a way it's not unlike me playing Chess: I do alright if I have time to consider all the options, but throw a timer into the mix and watch my capabilities tumble.
Empirically, I know that restrictions ultimately can be a positive thing, especially when it comes to matters of choice. Magic R&D head Mark Rosewater himself often espouses that restrictions breed creativity. He isn't wrong. It's why deadlines can actually be a good motivator, for example, and why I often enjoy a change of pace from normal deck building by playing in drafts. Drafts not only provide a short window of time to construct and play your deck, but they also do so with a comparatively small pool of cards to work from.
Of course, we are not here to discuss the advantages of Chess clocks and Limited Magic formats. We're here to continue the process of building a Commander deck with Alesha, Who Smiles At Death at the helm. Though I'd be lying if I said that I wouldn't mind procrastinating for another month or two.
When we last left off, we'd already looked over the semi-finalist creatures for Alesha to consider. We started with creatures as they are the core focus of the deck if we want to make the most use of Alesha's reanimation ability (and we do). However, recognizing the fact that many of them – including Alesha herself – weren't going to be powerhouse sized creatures right away (although several have the potential to be explosive and dangerous if used right), the next logical step was to focus on artifacts and enchantments that, for the most part, would buff or accentuate her and her similarly-sized cadre of attackers. That led to a comparatively small pool of cards to add into the equation.
Yet Equipment and static buffs don't encapsulate all of potentially useful artifacts and enchantments that could be beneficial for the deck. That was expected. Therefore, it seemed prudent we round out this phase of deck construction by compiling the list of remaining noncreature permanents to add to our prospective card pile. Today, that's exactly what we are going to do.
Before that, though, it should be elaborated on briefly why it is I choose to build decks in this manner. After all, the process of whittling cards down from hundreds or even thousands is tiring, lengthy, complicated, and sometimes (read: usually) quite frustrating. Why then, you may ask, wouldn't I instead simply toss a bunch of cards together into a deck and use extensive playtesting to figure out what to keep versus what to swap out. Why go through the trouble of putting a deck together on paper first when it's far quicker and easier to just continually tune and improve the deck from a basic conceptual framework?
To that I simply say…you would not be wrong to question it.
As I've mentioned before, the idea of a "distillation deck approach" is hardly the only one, and by most accounts it's the lengthiest process one can take. I also completely agree that first-hand playtesting is vital to any EDH deck, regardless of what path has taken leading up to the point where it can be played against other people. You simply can't beat real-world testing.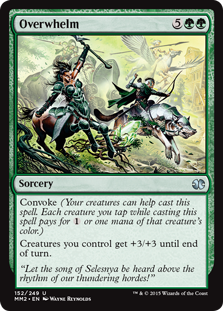 The reason I use this more complex approach is due to three factors. First and foremost is that I have the curse of too many options. With such a large collection to choose from and the desire for so much of it to see use, even if I only start off by picking from the cards in one's possession – something I suggest everyone use as a starting point for deck building – it still provides a lot of options. It takes me a painful amount of time to sift through and figure out which cards I want to see included the absolute most. The list of cards I've been dying to put into use alone is enough to fill several decks.
Secondly is that I prefer that my concept at least mostly work from the start. Thus, to get my deck to the caliber I want it to be, I have trouble winging it. It's not my style. I am a calculator and tinkerer by nature, and I don't do impulsive well. For those who are more methodical, like I am, planning a deck out in advance plays into our strengths rather than our weaknesses. It doesn't mean the deck won't need to make corrections after the fact, but by laying the groundwork out in this way, it lowers the chances of the deck completely falling flat on its face out of the gate.
The final and arguably most important reason for taking the long road approach is a quite practical one: I sadly don't have the luxury of extensive on-hand game testing. Testing a deck repeatedly against others requires time, and Magic itself can be time-consuming, let alone games of Commander. Arranging for time where both myself and my friends are free and willing to meet up isn't always that easy.
The reality is that I rarely get to play as much Magic as I used to, and I have to be judicious with what time is afforded to me when I am able. While there were eras where Magic was an almost everyday occurrence, nowadays I can only reliably count on playing 1-2 games – at most – per week. Between my group of Magic-playing friends dwindling over the years and competing attention from other games, Magic doesn't hold the same level of prominence to many around me as it once did. We've all gotten older, priorities and interests have shifted, and excessive free time is much harder to come by than as high schoolers and college students. Such is life. Ergo, I'd rather to do as much prepping as I can beforehand to ensure that when I actually get to play I don't squander it with extensive real-time playtesting.
At the end of the day, use whatever deckbuilding approach plays to your personal situation and your strengths as a player. I freely admit that the notion of pooling hundreds of cards together for a deck and then going through them one at a time isn't for everyone. It works for me because it provides the ability to build the deck I've envisioned from the start while ensuring that it'll live up to the standards that I've come to expect of myself. I'm no Pro Tour expert, but I take pride in my finished beta decks being much farther along during its initial games than if I merely toss something in a box together and hope for the best.
To that end, Alesha's deck is still far from finished. So let's get on with what's in store for it next.
Part Four: Rounding Out The Supporters
Compared to our last foray into noncreature permanent help – wherein we were mainly just looking at buffing capabilities for creatures – this look into the remaining cards was far less concise. I could have taken the same tact as I did with creatures and simply done another carte blanche Gatherer compilation of The Life, The Universe, And Everything. Instead, I narrowed my scope slightly. While I certainly ended up with a few cards here and there that I included simply for personal stylistic reasons, the majority of the assets I chose from tended to exist in one of these categories:
Card Draw
Card Discard
Life Gain
Enter The Battlefield or Death Triggers
Combat Control
Creature Sacrifice
Creature Recursion
When my initial perusing was done, I ended up with 99 cards that I felt could be beneficial in some way. This is the raw readout I came up with:
Noncreature Compilation List
Much like the previous lists, this too was too cumbersome of a list to work with as we try to refine and shrink the deck. Because I'm still not sure 100% sure on a couple of the deck's secondary characteristics just yet, I decided to give myself some wiggle room for selection choices and decreed that I'd allow for 30 cards from the list to remain. Like everything else to this point, 30 was a mostly arbitrary number, but I liked the idea that it was less than a third of the initial list and complimented the 20 from the previous segment.
However, I also gave myself a conditional rider. One thing you'll notice is that this list includes a small handful of planeswalkers for consideration. Personally, as a lover of utility cards, I adore planeswalkers. Yet I'm always cautious when it comes to planeswalkers and EDH. I treat planeswalkers as Artifacts and Enchantments that can be attacked when allocating for card slots since they essentially serve the same purpose.
Because protecting them in Commander games can be tricky, though, and doubly so in decks that tend to not be creature heavy (as mine often aren't), I'm always wary to include many in my decks, if any at all. So I made the restriction that of the final 30, no more than three could be planeswalkers. And even then I'm fairly certain that'll be at least one too many.
It isn't immediately apparent, but I can attest that trimming this list was more difficult than even the far more expansive list of creatures. There are a lot of very entertaining and very useful cards found in general, let alone among those I decided to keep simply for now, and it was genuinely discouraging having to cut some of them. This is a natural reaction using this style. It's like being a kid in a toy store and being told you only get to leave with one toy. Sure you're happy with the result, but it can be a little sad leaving all the others behind too.
Nonetheless, after several chat sessions with some folks and a few evenings staring at the list before going cross-eyed, we finally got our thirty:
Ocean's Thirty
Most of these choices probably will seem apparent given my search criteria, but all the same, it may be helpful to see why some of these made my list versus others.
Card Draw: This proved to have a smaller footprint than I planned, but it includes the dynamic Coercive Portal, which can be card draw or a board wipe, as well as one of my classic favorite Black cards, Phyrexian Arena. I also left in Jar of Eyeballs, which is more of a part draw, part tutor card. Plus I liked the idea of Alesha collecting trophies.

Card Discard: This section too was heavily scaled back from my original plans, ultimately only ending up with two: Grimoire of the Dead, which allows for potentially huge swing if its latter ability goes of, and the perennially underrated Trading Post, which, depending on the final deck, could be useful for far more than simply pitching cards to get creatures in the graveyard and / or for a handful of life. Speaking of which…

Life Gain: I know there's a handful of lifelink cards already circulating among the other lists already, but I couldn't resist including the likes of True Conviction (which helps in both life and combat), Ajani Steadfast, and Blind Obedience over Kismet for its Extort. Kismet can be politically dangerous for land disrupting, but plenty of others also dislike heavy use of Extort effects. So pick your poison there. My favorite decision of this bunch though is easily Proper Burial, which plays into the deck's high likelihood that my creatures are going to die. A lot.
Enter The Battlefield or Death Triggers: This set of cards has the potentially to really set up some deck synergy, and I'm excited to see how many make the final cut. These include the likes of Spirit Bonds, Warstorm Surge, and Flameshadow Conjuring, which is effectively a Red Minion Reflector. Strionic Resonator and Conjurer's Closet were added to increase their potency even more so. Ironically, Strionic isn't all that great for Alesha herself. Sure, it works, but it's not really all that efficient.

Combat Control: Of all the categories, I am most pleased with this pack of cards, as I feel it was where I got to be the most creative in my choices. Dolmen Gate was an auto-include for its ability to protect my attacking creatures, though Reconnaissance, another old favorite of mine, also works too well here to not be included. Yeah, it's a little janky rules-wise, using it to grant de facto Vigilance and the ability to salvage weaker creatures from dying, but it fits too darn well for me not to put it in. Mark of Asylum also occupies the damage prevention space, and Amulet of Vigor makes Alesha's insta-attacking creatures do so untapped (and thus able to block later), but I'm not sure how many salvagers I'm going to actually need. So they're on the watch pile for now.

Moreover, Gratuitous Violence is fun as a one-sided Furnace of Rath and is especially useful with all of the first/double strike running around. Keldon Twilight I also found amusing for thematic reasons, ensuring that everyone's being prodded to attack with something somewhere. It's a risk, but I'm fine with it for now.

My favorite find of these though, hands down, was Mystic Barrier. Mystic Barrier sets up a shield not unlike Ghostly Prison by limiting creatures to only attack the person next to them. Alesha's reanimated creatures, however, can be sent anywhere since they aren't declared as an attacker. Nothing like lobbing free one-sided combat damage. I apologize for nothing.

Creature Sacrifice: Surprisingly, this series of cards got almost cut entirely. This leads me to think that either I'm moving away from a lot of sacrificial stuff or I'll be splicing in a few of these into the spell slots instead. In the end, the only sacrificial stuff I stuck with are defensive, with No Mercy and Martyr's Bond to deter people from coming at me unimpeded.
Creature Recursion: Mostly your standard fare stuff here. Cauldron of Souls is useful to keep creatures on the battlefield (and also incurring another set of triggers), and Debtors' Knell and Palace Siege allow me to bring cards back if Alesha's not around. Palace Siege snuck in as the final card choice more for its creature retrieval over Oversold Cemetery, but I'm still sure about its place in the long run.
If you do a more thorough comparison between what was kept versus what was cut, you'll find that the biggest concentration of cards that were lost were my 'fun' cards. These are cards that can technically go in most decks and have qualities that people find entertaining or strategic for one reason or another.
Alas, many of those were eliminated either because I use them elsewhere and want to be a little more inventive (as in the case of Mana Web and Meekstone), or because they were the more low-hanging fruit. These included the likes of Sundial of the Infinite, Kill Switch, Witch's Mist, and Bitter Feud. These cards proved entertaining but not essential to my master plan. A few like Isolation Cell and Grave Betrayal were also removed because I simply don't need more hate thrown at me; I'm already going to invite enough wrath.
Of these, the only ones I was a more than a little dejected about were in removing Deathgrip / Leshrac's Sigil. Color hate is always an uncertainty in EDH decks, as it has the potential to be entirely ineffective, but I have a sneaking suspicion Green decks could be a problem against this one. Being big and nasty and stompy and, well, Green. We'll see.
And there we have it. Creatures. Attachments. Permanents. All in one place. You can see the full list by clicking below if you'd like.
[spoiler show="Click to see the current full deck list"]
Alesha's Season One Semi Finalists
[/spoiler]
Of course, the list as it exists is currently 120 cards, which is still far more than we'll actually use. Not to mention we still have Spells and mana fixing to address. That said, this gives us a very good set of candidates to pull from and allows us to start having a comprehensive view of where the deck should be going. This list should therefore be finite and speaks of all of our current options, right?
Yeah, about that…
See, deck building isn't like searching for job candidates for employment. There is always room for adjusting our vantage point, and you have to be flexible in making alterations as a deck comes together. Next week, we're going to look at a list of cards – mostly creatures – that didn't make that famous initial list of 365, let alone the 70 we settled on, as well as why they're showing up now. This could mean cards that we initially dismissed as incompatible with the deck design, cards that accidentally got overlooked when searching around, or cards that provide abilities and strategic avenues we never initially considered.
I'll spoil it now that this short list next week is a little bit of all three. What creatures did we miss? Will I stay sane enough to finish this by the end of the series? Stay tuned to find out!