Role Selection is an interview series in which we chat up folks who work, live and play board games to learn about the gaming roles they've chosen.

Character Names

: Kimberly Bullock, Kevin Craine, Mike Taylor
Role

: Convention Organizers, Granite Game Summit
Location

: Southern New Hampshire
Character Bios

:
Kimberly started down the gaming path by playing Haba and Gamewright releases with her kids. Kevin went to a friend's house to play Clue and found Arkham Horror set up instead – a classic bait-and-switch. Mike had been playing RPGs since high school, a traditional gateway that led him to board games.
Quotes

:
"When you hold a 15-hour game day, you're going to have folks who want to make it into a 16-hour game day…I know, I'm that person, too." — Mike
"I was completely calm." (laughter) — Kevin
"It went better than we could have anticipated." — Kimberly

Gamers in New Hampshire haven't had Unity in years.
Not the togetherness, 'singing-round-the-campfire,' lower-case unity, but big-U Unity — the Boston-area open-gaming convention that dissolved after 14 years, 20 gatherings and tens of thousands of games played.
Kimberly Bullock, Kevin Craine and Mike Taylor wanted to try starting something similar to Unity, but this time on the New Hampshire side of the border. Their goal was to build a stronger gaming community in and around the Granite State.
Brainstorming via Twitter, they decided to keep their expectations low for the first event. If each of them could sell 20 tickets, they'd just about break even. They could convince 60 people to come out for a game day, right?
Right. They hit that number within the first two hours of ticket sales, and things only went up from there. The first Granite Games Summit, held in Nashua, N.H., on May 14, 2016, drew more than 200 gamers, designers and media folk. Due to the high demand, Bullock, Craine and Taylor had to double the size of the gaming space just to fit everybody.
The event was a success, and the organizers recently announced a second Granite Games Summit on October 22, 2016. But it all started with careful planning, and the planning started with picking the right date.

The Interview:
Kevin Craine: You're trying to fall in between all the different events happening, not just locally but country-wide. You want to make sure you're not in PAX East territory or Gen Con or anything like that.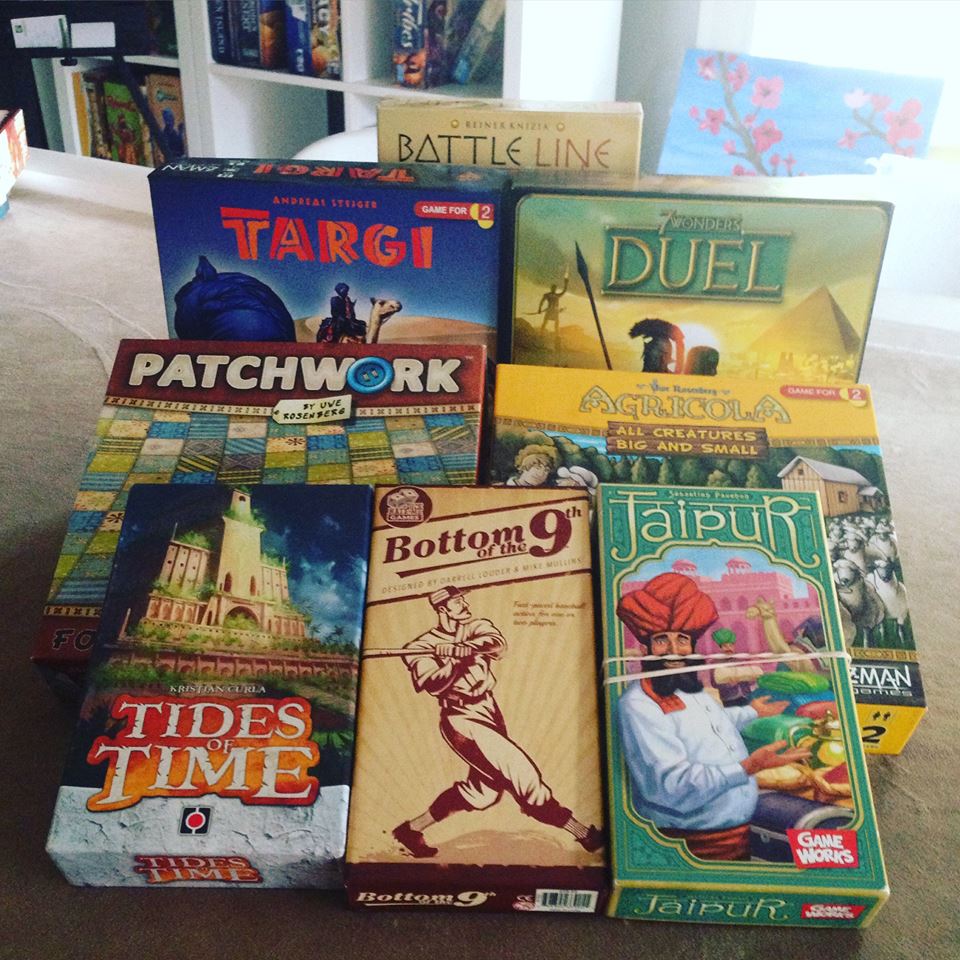 Matt Golec: Once that first decision was made, did some of the other big decisions fall into place?
Kimberly Bullock: After we picked a date, then we started venue-hopping – touring different places, meeting with them, emailing, [to find] who can give us the space that we like for a reasonable price around these specific dates. That definitely helped narrow our field a little bit. And these are not easy to come by.
Matt: That was a tricky part, finding the right place?
Kimberly: Oh, yeah. (laughter)
Matt: What were the things that some places had or didn't have that you were looking for?
Kimberly: A lot of them required (reservations) years in advance. But we knew we wanted an event within the year, initially, so that definitely limited our playing field quite a bit.
Mike Taylor: Part of it is also that a lot of these venues had legacy groups that had been coming year after year. So it kind of locked out a lot of available dates for us. Even as we were looking, when we'd say we had a date in mind, we had a broad range of dates in mind, but then we found one that worked the best within the context of all those.
Kevin: Like we said, we started off with 60 people, but we didn't know, so we wanted to make sure wherever we went, the venue could grow with us, right? And we lucked out with finding something that could.
Kimberly: Growth was a big part of venue choosing.
Matt: How long did it take you guys from your idea to the actual event? And was that a reasonable time, or did you feel like you needed more time?
Kimberly: That probably wouldn't be reasonable for most people. (laughter)
Mike: We expedited things quite a bit. From concept to execution, I think we were probably at three weeks?
Kimberly: No!
Mike: Well, execution being ticket sales. It moved very quickly.
Matt: So when was the start of planning to the event? How long was that?
Kimberly: Five months. Just shy of five months from our first actual meeting to the event.
Mike: We took a very scaled down approach, just because we knew the things we had and didn't have. We had connections to the community, but we didn't have a game library. We had access to space, but we didn't necessarily know what our turnout would be. So we kind of designed the event around what we had.
We knew we didn't want to bog ourselves down with scheduled events or tournaments or something like that, just because we didn't want to run events that no one would sign up for.
Kevin: We definitely [budgeted] the time we had to get done what we could. Could we have done more? Yes, but with the time that we had, we did what we could.
Matt: What are some of the other big milestones you had to meet in order to put on the event?
Kimberly: I think our website was pretty big. Branding in general.
Mike: We probably spent more time on the logo than I think we did on how we wanted to sell tickets or market it, really. (laughter)
Kimberly: Yeah, the design process was interesting.
Kevin: And I want to tack on to that — the naming of the convention was painful.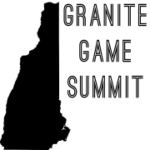 Kimberly: Oh yeah! I think the logo and name all rolled into branding. Branding took some time. We wanted to make sure it was done well.
Mike: We wanted to make sure we knew our voice so when we approached it it was consistent with everything. Really, our marketing approach — I guess if you want to call it that — was word of mouth and social media. It was a combination of saying, 'Hey, we're doing this event, here's the dates, can you make it?' And then you say yes or no, and then you share it with your community, and so on.
Kevin: That definitely worked. Also, all of us went out to local gaming groups and different groups around the area, and (said), 'Hey, here's a flyer,' and gave little talks about what we were going to be doing. So there was some guerrilla marketing out there as well.
Matt: How much time did you guys put in? It sounds like you spent quite a bit of your days on this.
Mike: So I'm a former camp guy, right? So the one thing you never want to do is ever divide what your salary is for the summer by the hour. You'll realize you're making less than 25 cents per hour. (laughter)
In a lot of cases it was very casual conversations that was happening just throughout the day. No different than chatting with friends like you would while at work while doing other things.
Kimberly: We tried to have a face-to-face meeting every other week, right? I mean, Google Hangouts or in person. Somewhere around there.
Kevin: But pretty much every day on Twitter, talking, chatting back and forth.
Mike: I think the first time since January we didn't talk was the day after the event. Kevin and I were sleeping, and Kimberly had a headache or something like that. (laughter)
Matt: Where does the money go for an event like this? Does it all go into that event, do you save some for the next year? Do you guys pay yourselves or other people salaries?
Mike: Pretty much we went into this with a zero budget. I guess that's not exactly true. We fronted the cash up front for certain things — the venue, the website, the domain, email services, stuff like that. But the event itself pretty much paid for itself as well as a fair portion of a future event.
Kimberly: There was no salary. We did not pay ourselves at all.
Kevin: We actually bought our own tickets and everything.
Mike: We wanted to make sure this event was one hundred percent funded by its community.
Kevin: All the money left over we're rolling over into the next event. We're just looking to grow and to create this community right now.
Matt: What was the day of the event like. Were you guys frazzled, or was it easy due to all the prep work?
Kevin: I was completely calm. (laughter)
Kimberly: We love you, Kevin!
Mike: The day of was actually pretty smooth. We were able to get in the night before, and that allowed us to really get rid of any chaotic bugs. 'Okay, so this isn't working, we need to do this before tomorrow morning. Okay, well, we have 12 hours so we're set.' WMUR, the news station, came a little bit later than they said they were supposed to and they stayed a longer than they thought they were going to.
Kimberly: That was all good.
Mike: No, it's not a bad thing. If anything, it was more, 'Okay, so we need to make sure during this time, everything goes very perfectly.' (laughter)
Matt: Was there anything unexpected you had to deal with? Any fires you had to put out?
Kimberly: The people who got there so early! But aside from that, no.
Mike: People are always excited. When you hold a 15-hour game day, you're going to have folks who want to make it into a 16-hour game day. Which is perfectly acceptable — I know I'm that person, too.
Kimberly: I didn't know that was really a thing. I was the only one who was really caught off-guard by that. I just got here and there are people waiting outside! They came in and helped a little, and it all worked out.
Matt: Going on into the future, have your reasons for putting this on changed? Is it still about building a gaming community?
Kevin: For me it is. The day before, we got there and I saw all those tables and chairs laid out — Kimberly and I looked at each other and said, 'Wow.' And then when people came early and started filling it, I was like, 'Wow, we did this.' So for me, it became an even bigger deal of community building.
Kimberly: It went better than we could have anticipated.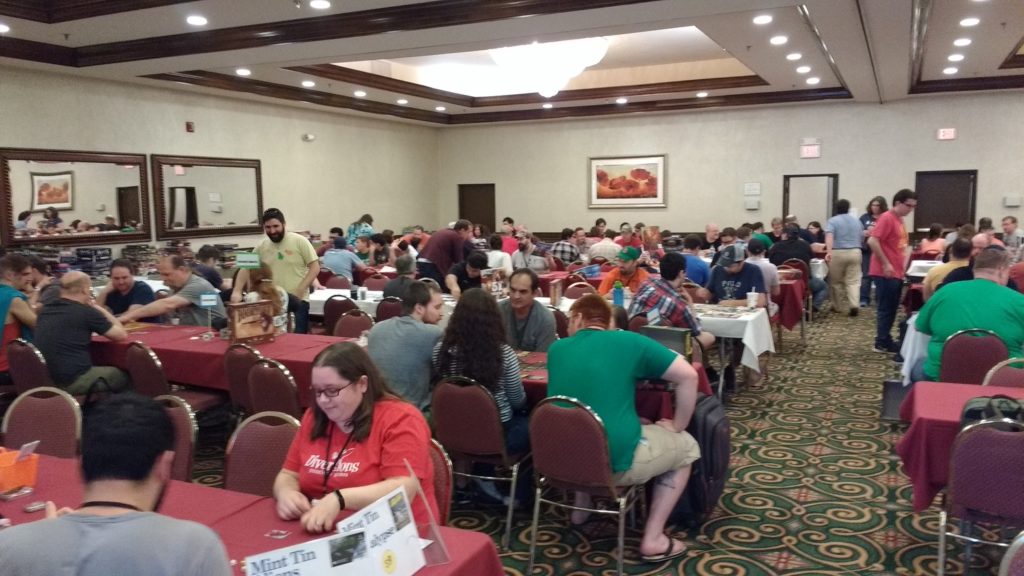 Mike: It was a very smooth experience. Between the three of us, I think we knew about 90 percent of the attendees. Whether we knew them well or knew them from other game events … you knew they were good people, and they just ultimately wanted to make sure that this is a positive experience for everyone.
Matt: I think by all accounts it was a successful, smooth event from the vantage point of us attendees and players. But I'm curious, what are you thinking about improving for next time?
Kimberly: Kevin and I walked through with the hotel and reworked our contract slightly, just last week.
Kevin: Some logistics stuff to make it work better.
Kimberly: Just things like we got pitchers of water instead water coolers — next time they'll be coolers. Making sure the garbage is emptied on a schedule, because we had to call them every time we wanted it emptied last time, and so this time we have it on schedule for the follow-up event. Minor things. Signage — getting okay from the hotel that we can tape signs to walls, because it was in our contract that we were not allowed to tape anything to the walls, but after being there you saw that the hotel was a little odd to navigate, so it was kind of necessary for some more signage, and they've been more than accommodating.
Kevin: My biggest thing is the designers — just making that process a little smoother for having the designers coming to either play-test or show off their games.
Kimberly: The play to win [raffles] we're in the process of reworking a little bit.
Mike: Ultimately, there were little things that we'll be making a slight changes to them that will enhance the experience for others. Like the water coolers vs. pitchers, having a microphone . . .
Kimberly: Yeah, having a microphone!
Mike: Just very minor organizational pieces that no one would think of until they ideally didn't work the first time. Nothing worked poorly, it was just there's a couple things to better the experience for the attendees.
Matt: Is there any secret to setting up a convention that you thought was interesting that you didn't know until you got into it?
Kevin: Find awesome people to do it with.
Kimberly: Odd numbers are good, too.
Kevin: Odd numbers are good.
Matt: For voting?
Kimberly: For voting purposes an odd number of people is magical, yes.
Mike: The three of us have unique takes on certain aspects of things, but ultimately finding people you have a good, positive relationship with that you can argue with but still walk away and know it's going to be a positive experience is a very solid thing.
Kimberly: There are certain things that we each feel a little more strongly about than the other people. We all have our areas around the convention that are more important to us. But I think that overall that compliments each other.
Kevin: We all have our little areas of expertise.
Kimberly: And we each have an appeal to different areas within the gaming community. Kevin knew more of the designers. I know more of the media. Mike knows more of the game groups. That all pairs well together. We hit what we knew best.


Looking long-term, Bullock, Craine and Taylor are hoping to hold a multi-day event, possibly next spring. In the meantime, the organizational trio are considering a Halloween theme for the October 22 game day, which might mean costumes but will definitely mean more branding discussions.
For more information about Granite Games Summit, visit their Website ; follow them on Facebook, Twitter, or Instagram; and check out the TV news piece by WMUR.

Matt Golec is game designer with a background in print journalism. Combining these skills, he aims to explore and give voice to the many different jobs within the hobby industry that don't frequently get reported on. He can be best reached via Twitter.
You can discuss this article and more on our social media!
Photo Credits: Multiple Photos from Granite Games Summit