As we continue our look into Zpocalypse throughout the month of March, we have a couple things for you this week. First up is a series of Q&As that the game creator, Jeff Gracia, graciously took the time to answer for us. The second is a chance for you to get your hands on some unique content if you missed out on the original Kickstarter campaign to get the game made.

Round One Questions
What was your Gateway Game?
Its tough to say what exactly my gateway game was. You could say as a kid it was BattleTech or Magic. However, sometime after college I was introduced to Settlers of Catan and a local game store that I was not aware off. Soon I found myself hunting down new games to play or try.
What was the last game you really enjoyed playing (besides Zpocalypse)?
Most recently, Lords of Waterdeep. I have to say it's a great worker placement with an minor layer of flavor. It's great how you feel like you're completely mini-quests with your rouges, wizards, and fighters. I feel the card element of the game can really change things up every time you play. I found to appreciate more games that are modular (or are different every time you play) in design after creating Zpocalypse.
How big is your game collection?
I built a shelf that was a foot off the ceiling in my office and 12 feet long, thinking I could fit all my games that I had stacked around the house…I was wrong. It only fit about half. I could estimate maybe 50-70 games. I have an addiction, but my latest excuse to the wife is it's for game development research!
What is your favorite type of game to play?
Something new. I know, that sounds crazy, but I love figuring out rules and playing a game for the first time. Only games that I feel really make the cut will I play a second time. A few games that tend to make it more than once to my table: Colosseum, Arkham Horror, Mansions of Madness, Eclipse, Agricola, and The Castles of Burgundy.
How do you feel about Monopoly?
I can't begin to tell you how many times I played it as a kid. I would play with my best friend Bryan all the time, maybe weekly at one point. Now I look back on it and laugh a bit because there are so many other games out there far superior to Monopoly that I would play in a heartbeat.
On Zpocalypse
This is your first attempt at making a full-fledged board game. What is the biggest thing you wished you knew at the beginning that you do now?
Keep it simple; don't over-complicate things if you don't have to. Also, know the scope of the project, and try and stick to it. Feature creep can be a problem even with board game development. Many times we would discuss if adding "X" would really be a benefit, and if it was worth the time. Lastly, don't get too excited in your first Kickstarter and promise the world. You would be surprised at how many hidden expenses can pop up. Shipping rates increasing, for example.
Aside from seeing the game made, what has been the most rewarding part of the journey for you?
The people. I have met so many great people, from fans to fellow games designers and industry leaders. Overall I'm speechless at how great the gaming community really is. Todd Goodman, for example, I met at a game demo night; he is now part of Greenbrier Games as a game designer and our Lead Videographer.
Does Greenbriar Games have any new projects they're working on?
Yes we do! In fact, we just launched a new Kickstarter. . . We had a lot of people requesting miniaturized fortifications. We also have several projects we are working on, all on the same caliber as Zpocalypse.

Jeff was asked one additional question that he had a particularly hard time with: "What has been your most memorable in-game moment of Zpocalypse?" Given the hundreds of game sessions he's played, it's no surprise he had such difficulty narrowing it down to just one. So instead, we will share our favorite moment (so far):
The game of Zpocalypse is played over a series of 2-4 Days, (lengthy rounds). We had a four player game going and were well into our Day's actions. Each player's party was able to get the food we needed to get past the "try not to starve to death" checkpoint, and it was time to go out and scavenge for materials. And maybe kill a zombie or five. In doing so, one of our party found a grenade, which, much like a real grenade, was a powerful one-time use weapon. Several turns in, she decided to use it on a group of zombies, which is done by rolling two d6 dice to calculate the range. Unless of course you roll double 1's, in which case you decided to throw the pin and drop the grenade.
Which she did.
Did I mention several of us were nearby? Our teammate was about to kill us all. Survived the apocalypse, killed by poor coordination skills. What a way to go.
When the grenade goes off, the player rolls six d6 dice to calculate damage. Anything on a 4-6 is a hit and factors into the blast damage. The odds of that not  happening are .015625, or about 1 in 64. I know; I did the math.
And yet, that's exactly what she did. She critically failed her critical fail. She lost her shoes (and the grenade), but she lived. We lived. And the zombies proceeded to die.

Promo Cards
Speaking of specific cards, did you know there are a series of promotional cards for the game of Zpocalypse? It's true. Here's a picture of five out of the six: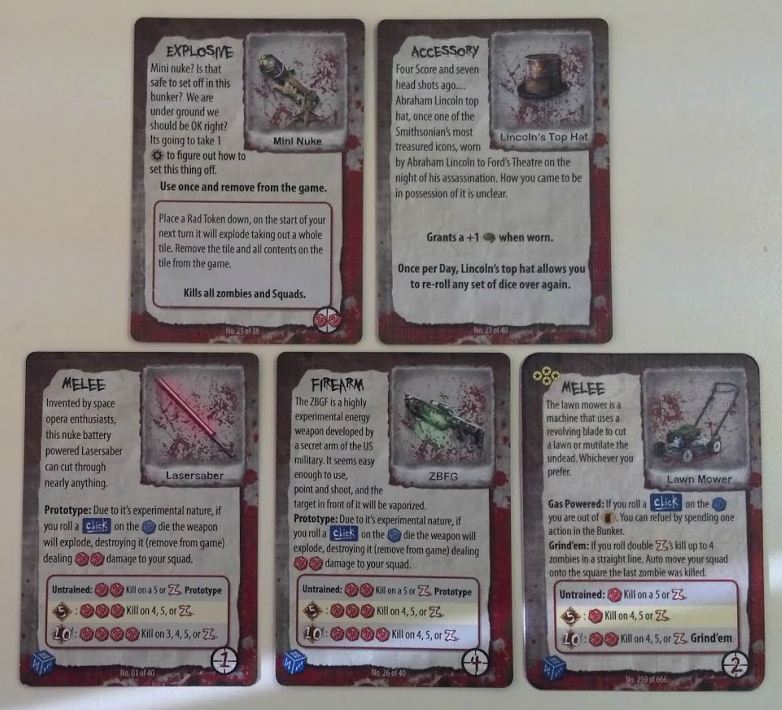 Four of these (Mini Nuke, Lincoln's Top Hat, Lasersaber, and ZBFG) are Kickstarter exclusive cards, and the Lawn Mower was a convention/demo only card. If you weren't able to contribute to the Kickstarter the first time around, or see it in action at a con somewhere, normally these would be out of reach unless you wanted to try your hand at the BGG market or places like ebay.
Or we could just give them to you. And so we will!
If you are planning to purchase Zpocalypse (or already have outside of the Kickstarter), and you are interested in this set of five promotional cards, we are giving a set away via our Facebook page*. All you have to do is go there and follow the entry section! We'll be having this contest open for the next two weeks, announcing the winner on TableTopDay, aka March 30th. Check it out!
*For those unable to or are unwilling to use Facebook and use Google+ instead, you still have a chance at winning, and can do so by clicking here. Double the odds by liking us at both sites!


Fine print: The Cardboard Republic is giving these cards away strictly for fun. This act is not a paid endorsement by Greenbrier Games or any other entity. Staff members of The Cardboard Republic are not eligible to participate.