Originating as a series chronicling David Gordon's return to the Legend of the Five Rings CCG after a several year absence, Dave of the Five Rings continues on as he examines the current and future of the iconic world of Rokugan upon the game's sale to FFG in 2015.
Chapter 45: The Year That Was
Welcome to the new year, dear reader. We may be less than eight weeks in, but 2020 has certainly hit the ground running – both in general and for Legend of the Five Rings.
January has come and gone, but before jump into what that means, I first wanted to thank each and all of you for your support in 2019. My year in review article caught some praise, and I appreciate you reaching out to me to express it. I endeavor to be a reliable, entertaining source of news each month for L5R and to add to this amazing community with my effort. It is your support that keeps me in the game, so to speak. So, thank you.
But, yes, let us talk about January 2020 and how it has changed the game.
Roleplay Now MIA
With the exit of Andrew Navaro from Fantasy Flight Games at the end of 2019, the future direction of the company which currently holds the Legend of the Five Rings license has become quite foggy to those of us on the outside. This was made all the more immediate by the story of layoffs at FFG early in the month and did much to frame the narrative of the community's experience throughout January. The story was broken on Reddit by Sam Bailey on Twitter, a former FFG game designer and current freelancer.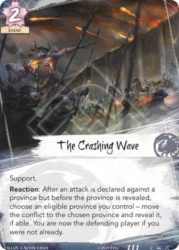 While FFG rather predictably made no official announcements of its reasons for these layoffs, Tim Gerritsen, the studio head of Fantasy Flight Interactive announced on LinkedIn that the studio would be shuttered by the time of this publication. Fantasy Flight Interactive was launched under Asmodee North America in 2017 to produce video game adaptations of Asmodee tabletop games, though the only title to its name thus far was The Lord of the Rings: Adventure Card Game on PC in August 2019.
While this portion doesn't directly impact the L5R community, Bailey also reported extensive if not complete layoffs of FFG's RPG department – including those in charge of the L5R RPG. No mention existed that the layoffs and the restructuring which followed would impact the LCG, but with one half of the game's product lines on life support, a nervous community asked for reassurances. In turn, we subsequently heard from both Tyler Parrott and Matt Holland that their jobs remained and they would be continuing to provide us with design and support for the game.
Phew.
With the future of all FFG RPGs in doubt, many Star Wars RPG fans took to social media to raise awareness of the layoffs and voice their concerns. L5R RPG fans joined in, pushing for any form of public acknowledgement or engagement from the notoriously close-lipped company. While FFG (again) issued no press releases or any public statement regarding the future of the RPG lines whose staff were laid off, ICv2 reported at the time that "… all three product lines are still ongoing". However, subsequent inquires have confirmed that this only applies to RPG products currently in the pipeline and all new product development has, in fact, stopped.
What this means for the future of the Legend of the Five Rings RPG beyond the next few titles is anyone's guess. Both Path of Waves and "Sins of Regret" were delayed significantly from their Q4 2019 release, and only a pair of new 2020 releases have been announced thus far. As part of "anyone", I would personally guess that this will slow the release schedule of new content to two releases a year, compared to the four scheduled for 2019. It's not impossible that the L5R RPG continue to be released in a primarily freelancer-focused structure, which would not be a significant change in how the RPG line was currently functioning, though that may be overly optimistic. The main question becomes who the creative director on the RPG will be during this wind-down period.
The Story Continues…For Now
It is in that area where we had some good news for the L5R community. In the days following the layoffs, Katrina Ostrander announced her return to Fantasy Flight Games, this time as a Creative Director of Story & Setting. Katrina had previously been a Story Manager at FFG, as well as a fiction editor and associate RPG producer.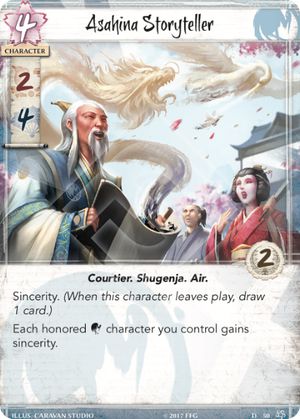 During the initial re-launch of L5R, Katrina had been one of the most prominent voices at FFG and shaped the initial storyline of the game in its reboot. She had been one of the main contributing writers for the RPG and was the principle story editor for the initial fiction. A tireless advocate for the game, her enthusiasm and love of L5R and its influences showed everywhere. More so than nearly another hand at FFG, Katrina shaped the current incarnation of the game, which is why the community was shocked and dismayed when she departed FFG in April 2018. While she remained a major voice in the RPG, writing both "Wedding at Kyotei Castle" and "Winter's Embrace", as well as the fiction "A Season of War" and "Smokeless Fire" in a freelance capacity, her presence was keenly missed. L5R is a game which has always benefited from a dedicated Story Lead, and although only time will tell what capacity her return to FFG will entail regarding L5R's future, it has all the shape of a light at the end of a tunnel.
Saying The Loud Part Quiet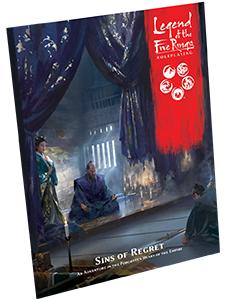 Beyond this bombshell, January was otherwise a quiet month news wise. The deluxe expansion set, Clan War, was quietly given its release date on February 7, while both the aforementioned Path of Waves and "Sins of Regret" released on February 14th. These were confirmed by distributors as well as the fact that direct preorders were arriving before those street dates – providing another incentive from FFG for ordering direct. This approach was addressed during the InFlight Report at Gen Con 2019 that this was not policy decided by FFG themselves, but it is one more failure on their part to support the brick and mortar stores which provide space for their games to be played and communities to gather. FFG has fortunately stopped advertising direct preorder bonuses for their Dynasty Packs, but time will tell whether they'll be included with the Dominion Cycle packs.
January, however, was an active month for the Fiction of Legend of the Five Rings, with new stories from Robert Denton III, Marie Brennan, and Lisa Farrell. "We Strike First" by Lisa Farrell follows the story of the Hare Clan Champion, Usagi Tsukiko, and provides insight into how the chaos following the death of Hantei the 38th can be taken advantage of. "Beyond Reach" by Robert Denton III rewards the story choice made by the top Phoenix Clan player of the Winter Court World Championship in 2018, as Asako Tsuki journeys to the Crab Clan lands to find the missing Master of Earth. Finally, Marie Brennan provides the reward for the top Dragon Clan player from that event with "What the Eye Cannot See". Brennan introduces us to a new character, Kitsuki Chiari, who delves ever deeper into the mysteries of the Forbidden City and uncovers more than she bargained for.
Untitled Dragon MetaGame
Las Vegas hosted the first major tournament of 2020, with the Grand Championship held at the Las Vegas Open on January 28th. Despite only 39 players attending, the event itself drew a lot of attention for the three emerging archetypes in a post Banned List meta. The first of these is a swarm deck out of the Crab Clan, utilizing Those Who Serve and Kuni Labs to flood the board with waves of cheap bodies, while gaining extra value out of Crab Clan's native resource advantages.
The Lion Clan and the Unicorn Clan have also started their own version of the old Crab Tower deck, creating massive Characters buried under stacks of Attachments who participate in every Conflict due to the massive card draw created by Spyglass and Tactical Ingenuity, and several on-demand ways of readying their towers. As reported by the Imperial Assembly, the Lion Clan were able to post a positive Win-Lose ratio against all other decks, a statistic which only reinforces the power of this Lion Clan Tower deck. Ultimately, it was a Lion Clan Tower deck which won the day, and my congratulations goes out to Handsome Dan Mui for his victory over Jared Wright, who was playing for the Crab Clan.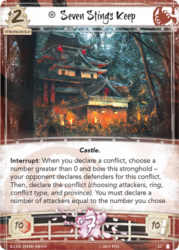 For previews in January, FFG showed off several cards from the second Dynasty Pack in the Dominion Cycle, Spreading Shadows. The Scorpion Clan had been promised a beast of a weapon in the Dispatch to Nowhere, a Dynasty-side Event capable of discarding a Character from play without Fate. Seven Stings Keep is a card I have my eye on, however, as it is the exact sort of playable jank that I find quite enjoyable.
The real winners of the article, however, were undoubtedly the Dragon Clan. This is not because the cards previewed for them were good. Quite the opposite. Between two cards featuring Attachment removal (Inspired Visionary and Disciple of Shinsei), and Traveling Philosopher being nearly unplayably bad on its Fate cost to Skills alone, the Dragon Clan look to continue to struggle in 2020 to find cards to add to their existing deck.
What Dragon Clan players have gained, however, is a new way to express their frustration and anger. The artwork of Traveling Philosopher by Leanna Crossan features a woman in simple garb speaking to several birds, the most prominent of whom is a large white goose. This is the sort of large white goose which was most recently featured in the independent video game, "Untitled Goose Game".
Like many taken by this title, the Dragon Clan community has embraced the Horrible Goose as a symbol of their growing frustration and dismay at the developments of the LCG regarding their faction. The previews of the Dragon Clan cards in Clan War and the Dominion Cycle have offered nothing but more half-implemented mechanical themes. Traveling Philosopher allows the Dragon Clan to re-trigger "on reveal" Provinces, but their strongest on reveal Province, Restoration of Balance, was the subject of a directed "play balance" errata, changing it to being triggered on break. The article calls out Traveling Philosopher's ability to strengthen Mirumoto's Fury, but that card has been Restricted since the first Restricted List, and the Dragon Clan have not been able to run it since. Like many Dragon Clan players, I welcome the Horrible Goose as a mascot for our Clan and community, because it at least gives us something to laugh about.
Or honk at.
Lastly, no review of January 2020 would be complete without what to me is the strangest development I've seen in a while: L5R has partnered with the retail chain Hot Topic to provide several t-shirts bearing artwork from the game along with Great Clan mons. As someone who was once a teenaged mall goth, I am not ashamed to report that I am not entirely certain where I stand on this issue. On one hand, I am happy to see my game reach a new audience through these items, as the artwork and design work of Legend of the Five Rings is absolutely one of its most recognizable and accessible features, and this partnership may lead new players to the hobby. On the other hand, I was once unable to afford t-shirts at Hot Topic because I wanted to save the money I earned working part time at a pizza shop to buy L5R cards. What a strange new world we seem to have found ourselves in.
What I think we can all agree with, dear reader, is that FFG missed a major opportunity in not having Scorpion Clan mons printed on a line of gothic-lolita dresses…
Anyway, until next month.
Carry the Fortunes.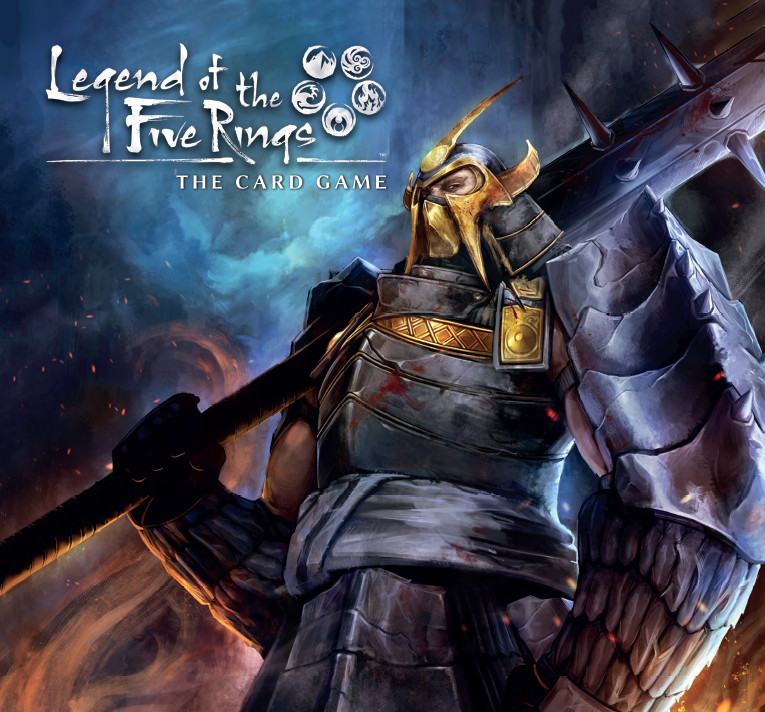 David Gordon is a regular contributor to the site. A storyteller by trade and avowed tabletop veteran, he also has a long and complicated past with L5R. These are his stories. He can be reached on Twitter.
You can discuss this article and more on our social media!
Photo Credits: Legend of the 5 Rings images by Fantasy Flight Games.