This week, all of the the perennial attendees will be parsing the things they liked at Gen Con 2013 versus the things they didn't in great detail. There will be detractors who will elaborate on how Thing A was better last year, and that the convention was missing a certain joie de vivre because Thing B wasn't present like it usually is. Likewise, there will be those that will gush that it's the best one yet – a challenge that I assume gets harder every year given how long it's been running.
No, we can't do either of these, because we are first-timers this year. As fans, we had often talked about attending, but as is often the case, it never materialized in time. At this point last year, the Cardboard Republic was still in early planning stages, and our sole contributor who has been to Gen Con regularly for several years was not yet part of our cadre. We knew it was something worth attending as gamers, but now we had a dual purpose as a gaming site. Still, we walked in not quite sure what to expect, for we were Gen Con neophytes.
I'm going to be saving the specifics of games for the podcast and a roundup on Friday, but in this post I wanted to briefly share some of our experiences of our premiere on the Gen Con scene.
It's As Big As Advertised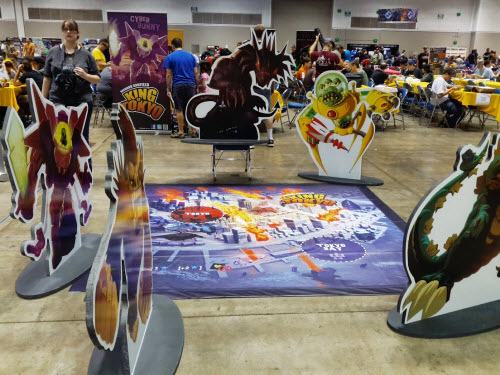 When people tell you that Gen Con is as massive as a gaming con can be, rivaling Essen, they aren't joking. This year they counted a little over 49,000 unique visitors, which is just massive.
Here in the Northeast, the spring months are largely our con season (because that's all there is to do while you're waiting for warmer weather), which culminates in PAX East. As big as that location is, Gen Con has more unique visitors over its tenure, has multiple halls, and its events actually spill over into several adjoined hotels.
Moreover, unlike the PAXes or Comic Cons, Gen Con is almost entirely about analog gaming. With rare exceptions, there are no consoles, no computer games. The closest you get is people showing off a game port to mobile devices, and even those aren't incredibly common to see (for now). Instead, this is a place to go for the love of paper, pencils, and pieces of cardboard. Whether it's LARPing or board games, tabletops or minis, Gen Con has it all.
That said, unless your goal is to plant yourself in one room or hall for the duration of stay (which can totally happen), you end up walking around a ton as you navigate it all. Over four days, it can take its toll on you. Prepare accordingly during your stay, as well as time to recover afterwards.
We learned this one the hard way. Instead of showing up early, we took our 14 hour road trip overnight and went directly to the con on Thursday. On Sunday we left immediately afterwards, arriving home Monday morning. One of us even went to work that day, though the rest of us at least had a modicum of foresight in that regard. It was a fun experience, but next time we fully intend to avoid some of the fatigue we brought upon ourselves by poor planning. Gen Con does enough of that on you by itself.
Time Is Not Your Friend
Gen Con goes for four days (Wednesday's Trade Day notwithstanding), and it's practically non-stop. The exhibit floor is only open 10-6, but there is regularly something to do somewhere until the twilight hours of the morning. I know it sounds bizarre, but even in four days, you won't see everything. You simply can't. We also very quickly found that there was zero chance of our group sticking together. Everyone is going to be drawn to something different. Luckily, beyond meals we didn't try to.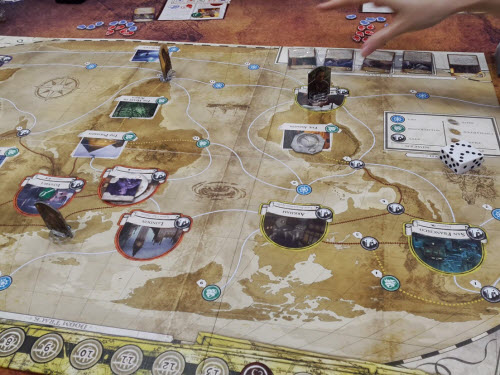 Personally, I spent nearly the entirety of the exhibit floor hours inside it unless I was getting lunch. I took some time to wander around elsewhere a bit and enjoyed some evening activities, but it was very evident I was not going to do as much as I wanted to.
I had to focus on the things I deemed the most important to see and do, the bulk of which involved the games being exhibited and the people behind them. Much of that I'll be able to tell you about in the games recap (though some I can't yet), but needless to say, I had to scrap a number of things I wanted to do as a result.
Time will fly far faster than you think because of the sheer volume of options. Eating and sleeping can easily become casualties to other options, and as much as it sucks to do so, you will have to pull yourself away at some point. Even still, trying to cram so much into an ever-shrinking window of time is an exhausting ordeal, even for the more extroverted people out there. Downtime may not be an ideal option for most, but we tried to do something in that regards, even if it was as simple as making a concerted effort to get sleep.
People Are Your Friends
We've lost track of the number of stories we heard about friendships forged at Gen Con, and now we can see why. This is the equivalent of a gamer's pilgrimage, and everyone is there for the same reasons. There's a commonality among the attendees, and that sharing of a similar hobby allows people to bond over shared interests. You certainly can do your own thing all weekend and leave there with your horizons completely unwidened, but you almost have to do that deliberately. There are so many cool things to see, so many games to look at and try, that it's damn nearly impossible not to strike up a conversation with a complete stranger over something. Honestly, that's part of the fun. Between random strangers, those demoing their games, and the staffers working the booths, the bulk of my time spent was just looking at things and talking to people. I personally played far fewer games than I thought I would, and all but two were demos.
Still, it was completely time well spent.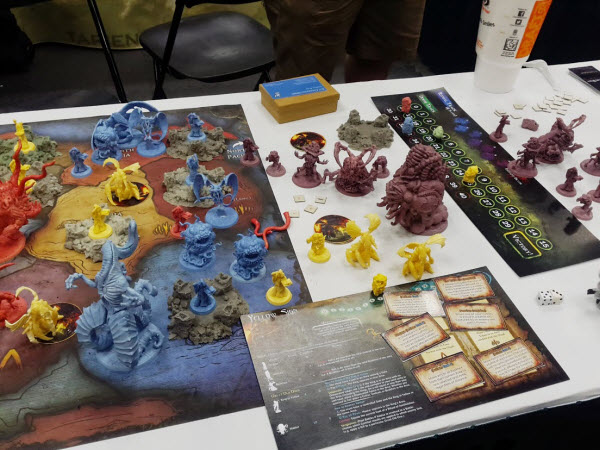 Now, there are a lot of individuals that come through the doors, and I'm not saying that you're going to befriend (or even like) everyone you encounter. Most people, though, are there for the same reasons you are, and it's very easy to chat with just about anyone who goes. Gen Con is about gaming, and non-video gaming at its core is about engaging with other people. Whether it's with a foam sword or a fistful of meeples, interacting with one another is sort of what we gamers do.
We got to meet a lot of folks we've had some form of communication with in the months since our launch. That part was both very exciting and physically tiring at the same time. (Running back and forth around the halls will do that.) We met some Twitter friends, Kickstarter creators, industry publishers, you name it. What was also quite fun was that we came across so many new people, several of which we fully intend to keep in touch with, whom we never would have met had we not embraced one of the things that makes the con what it is.
Let Your Geek Flag Fly
When you go to geeky conventions, it sort of becomes expected there are going to be really awesomely dorky things going on. Maybe you'll roll your eyes a bit, or maybe you'll get excited over the collective expressive nature of your subculture. Whether it's anime, comic books, or board games, the clarion call goes out and we answer. These sort of conventions are like the field of dreams for geeks:
"If you host it, they will come…"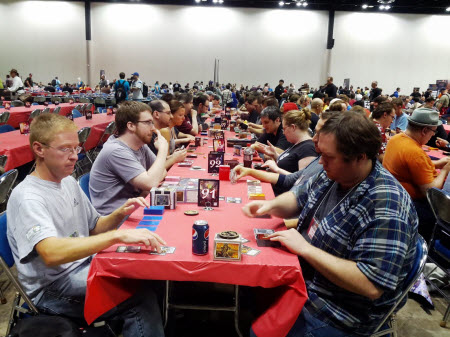 Embrace your brethren and all their quirkiness, even if their particular style isn't your thing. That was my thought going in. It's far more enjoyable that way. Gen Con has plenty of cosplayers running about, booth displays to inspect, and even the now-annual Cardhalla area, where people build things out of donated trading cards. I have my fair share of geeky t-shirts myself, and yet I saw some in the crowd that put many of them to shame.
Of course, all that meant was that I was in the right place.
Gen Con has all of these things, because gamers are all of these things. From engineers to artists, parents to industry professionals, the diversity of scope is part of what makes it such a unique experience. What's more, not only is the general Indianapolis area accepting of 50,000 people amassing in the late summer days for a geek summit, many residents actually say it's their favorite convention they host of the year. Part of that is for economic reasons of course (you don't get into gaming as a hobby without some kind of disposable income), but it's also the festival-like attitude it brings with it.
"If you host it, they will come…"
That we did, and it was a completely exhausting whirlwind of great things to see and do. While we intend to do a few things differently logistically next year, we found Gen Con to surpass everything we had hoped it would be. It had something for our entire group with plenty left over. They say it's The Best Four Days in Gaming, and I have to admit, it actually lives up to the hype. We're sold, that's for sure, both as fans, and as a burgeoning gaming outlet. Whether it's the best one ever or not we'll leave to those who have something to compare it to. Here, instead, I'll share with you just some of the many impressive things we saw:
Three Deadpools congregating together – and the world didn't implode.
That there was literally a line to get in to the Fantasy Flight booth simply to buy their stuff.
The Stay Puft Marshmallow Man being followed around by a team of ghostbusters.
A man sell early complete Magic sets to a vendor for $50,000.
A stormtrooper wearing a kilt.
A Warhammer-themed restaurant menu.
Cardhalla itself. No idea if it was "the best ever", but it was certainly cool by the end. And then it gets destroyed – for charity.
Mayfair celebrating setting a world record by having nearly 1,000 people play Settlers of Catan at once.
Knowing that Wil Wheaton was wandering around doing Tabletop-y things.
Cryptozoic's Epic Spell Wars trophy was, well, epic.
Seeing hundreds upon hundreds of people turn out for a CCG tournament that has nothing to do with Wizards of the Coast in AEG's L5R game.
How remarkably accessible downtown Indianapolis is for a city – a state capital no less. And clean! Eerily clean. (Though that could just be because we're used to Boston.)
All of the giant-sized games.
And much, much more, cliche as it is to say.
All in all, our first Gen Con was a pleasant one, and we look forward to our next pilgrimage there, likely with more converts, to continue the cycle anew.