Last year, the Cardboard Republic unveiled its first  (formal) annual Games of the Year awards, known as the Laurels of the Republic. Or Laurels for short. These awards showcase what we feel were some of the best games of their respective categories the board gaming world put forth over the last year.
However, rather than creating a simple Top Ten List of our personal favorites or breaking our nominees down along more traditional categories, The Laurels tie in directly with our gamer archetype approach of how we look at and review games. Each of these six play styles cater to a specific philosophy when it comes to what someone generally desires of a gaming experience, and we wanted to highlight games based on those preferences. (If you aren't sure where your archetypes fall, we have a handy quiz to take.) As a result, we have created not one, not two, but six different 2016 lists to share with you all.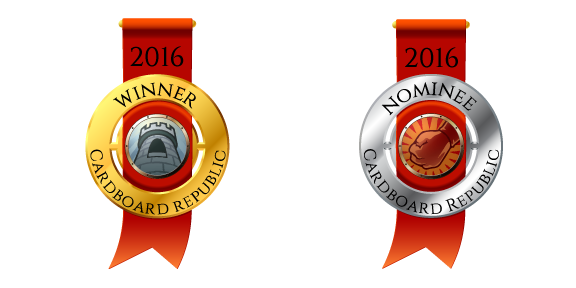 Tomorrow, February 15th, we will be unveiling this year's nominees. Then, starting on March 1st, we'll be providing the breakdowns for those lists, along with the coveted winner. We'll release between one and two categories a week for the duration of the month. We definitely hope you tune for each one to see who made the finalists, and let's just say there may also be some extra incentives lined up to watch for when they hit.
It's been a lot of work putting these together, but it's also been a lot of fun, and we're really excited to share them with you. Who'll take the gold? Stay tuned to find out!

As a technical note, you may wonder how we determine cutoff criteria for game eligibility of a given year. Well, it mostly boils down to availability. There are only three primary rules, which are as follows:
Games deemed to be purely reskins or new editions / versions of older games without substantial (20% or more) changes to the rules are not eligible for consideration.
For Kickstarter games, the game's date for consideration is based on when it starts being

shipped

to US backers and is irrespective of when the campaign itself started or ended. Only fulfillment matters. If backers start receiving their copies in January, then it's eligible for that year.

We do reserve the right of flexibility on this rule in cases such as considering games shipped in mid-late December of the previous year, or deciding to evaluate games from well-established publishers leveraging Kickstarter as a preorder system using Rule 3 instead.

For all traditionally published games, the game's eligibility starts from when it becomes available in the US via wide-scale or direct retail distribution. In practical terms, this often means annual Essen game releases won't be eligible until the next year's award cycle, and many games only available via import or a single website may not be eligible at all.