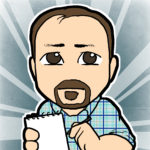 While Jason cut his teeth covering the video game industry for more than a decade for numerous outlets including Gamasutra and Joystiq, his heart has always been at the table with board and card games. A web designer and community manager by day working for the largest federally recognized Native American tribe in the United States, Jason is passionate about both his work and hobbies.
A husband and father, Jason lives in northeast Oklahoma, and enjoys playing a variety of games, but finds deckbuilders and area control games of particular interest. Always on the lookout for word of new games and the people behind them, Jason keeps us apprised by manning the site's News feed

The Five Questions
What was your Gateway Game?
The game that got me into board games, all those years ago, was Stratego.
What was the last game you really enjoyed playing?
[As of October 2016] The last game that really knocked my socks off was Xia: Legends of a Drift System. Boy do I hate that title though…
How big is your game collection?
My collection is probably modest compared to many. I'd peg it at just over a 100 or so games.
What is your favorite type of game to play?
It's hard to say no to a good deckbuilder or area control game!
How do you feel about Monopoly?
I don't hate Monopoly like some do; I just don't find it fun. But if it gets someone interested in playing games and then they can become introduced to games beyond Monopoly, Trouble, or what have you, then I think the game served a useful purpose.

Contact Matt:
Email: hello@indiecardboard.com
Twitter: @IndieCardboard