What makes a game stand out? It's a deceptively simple question that, on the surface, seems like it would be straightforward enough to answer, and yet it's not unlike blind men trying to describe an elephant. To some, a game may stand out for its presentation, with slick graphic design, eye-catching components, and stellar artwork. To others, a game's principal draw is due to its core behavior, luring players in with an assortment of mechanics and strategies to puzzle out as they work to outmatch and outmaneuver their opponents. For others still, the true mark of a standout game is the experience it conveys to the audience, be it through deeply immersive themes, a progressive sense of accomplishment, or how it elicits and overall feeling of joviality.
In the end, all of these answers are correct, as are many others. Because, ultimately, what makes the question so challenging is it has no truly objective answer. Most of the time, however, games that set themselves apart from the rest are either those that can channel one or more of those aspects especially well, or those whose disparate characteristics that don't seem especially distinctive by themselves come together in a very greater than the sum of its part way.
When it comes to Rival Restaurants, the inaugural title by Gap Closer Games, its recipe for success falls very much in the latter camp. Inspired by the company's mission statement of creating gaming experiences that appeal to both enfranchised and novice players alike, this hour long game takes several familiar concepts and aligns them in a way that's quite easy to digest.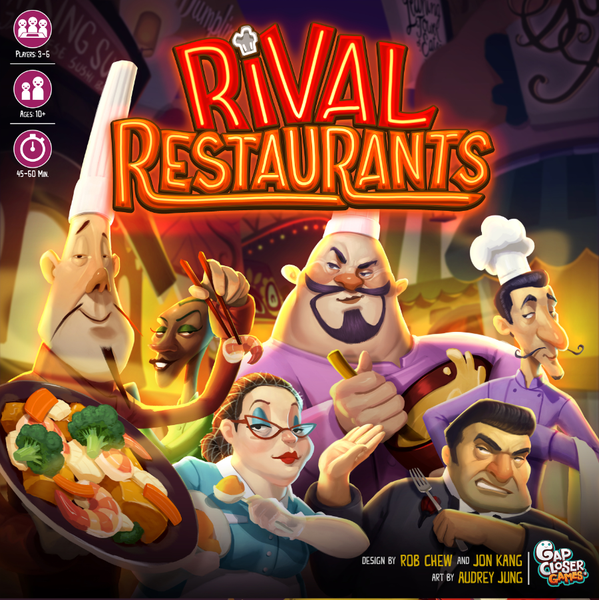 In this culinary race for popularity points, players are competing chefs at local restaurants seeking to be the first to complete recipes and earn enough fame to declare gastronomical supremacy in the neighborhood. Each round behaves the same way, with players earning some startup income, then selecting a specific location on the board they will be visiting that round – each corresponding to a different series of ingredient types. Then, everyone acts simultaneously by purchasing as many of the ingredient types of the location as they wish while also negotiating and bartering with one another to secure, among other things, ingredients from elsewhere on the board – all with the intent of trying to fulfill those all-important recipes.
Possessing elements of trade & negotiation, simultaneous turn-taking, timed rounds, unique player powers, upgradable restaurant tech, and even some Munchkin-esque one-shot action cards, Rival Restaurants takes a host of different game facets and playfully tosses all of these ideas into a blender with the intent of creating an experience that is fast-paced yet measured and strategic yet approachable for a wide spectrum of players. And then adds in motes of unpredictability and lightweight comedic humor.
…and it all works. It indeed is the sort of game with wide-ranging appeal that casual and family gaming groups will bite at.
We hope you brought your appetite for a lighthearted competition of culinary prowess, because we're about to offer up a delicious sweetener! In the spirit of the holidays and all of the tasty goodness out there, we're offering up a copy of the game to add to the mix!
From now though January 5th, 2020 (a contest spanning two years…technically), you can check out the contest details and enter below. Just follow the entry form and proceed with the contest. The more of these entries you do, even if just one, you still have a better chance than not entering at all. Of course you're welcome to do that too. But your odds of winning drop to zero. No pressure or anything.
Dig in!
The Fine Print: The Cardboard Republic, in conjunction with Gap Closer Games is giving this game away strictly for entertainment purposes. This act is not a paid endorsement by Gap Closer Games or any other entity. This contest is open to individuals only. Staff members of The Cardboard Republic and Gap Closer Games are not eligible to participate. For winners outside of the Continental US, the publisher reserves the right to request they cover part or all of the shipping costs.